Brunch Club

Format: Xbox One
Publisher: The Yogscast
Developer: Foggy Box Games
RRP: £11.99
Click here to buy from Xbox Marketplace
Age Restrictions: 3+
Release Date: 29 August 2020
Welcome to Brunch Club, a 1-4 player food fight frenzy, with a seasoning of pop culture. Work together to complete a selection of delicious challenges, but watch out, they don't make this easy. Test your ability to remain calm in the kitchen with your friends and be prepared to try, try, and try again...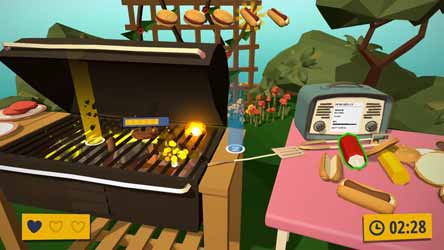 What is it with retro looking arcade party games that revolve around junk food? Brunch Club arrives a month after Lunch a Palooza, a rather dull and pointless offering that was neither fun nor very engaging. Sadly, Brunch Club, while slightly more enjoyable, is still an acquired taste.
It caters (see what I did there?) for 1-4 players, but to be perfectly honest it's not really a game for one as it's so frustrating that you're almost guaranteed to rage quit. With friends it holds a little more of a challenge, but again you'll soon be falling out because the challenges are frustratingly difficult. Not because they're particularly hard, but because the control system is impossible to master.
If it wasn't for the fact I had to review this, I would have given up after the second level... and certainly the third (which sees you outside with a BBQ and hot dogs and burgers to prepare).
There's a range of mini games from two player versus mode in Face Off, to building bridges in Five Second Rule keeping your food off the dirty surfaces. You can either opt for local play with 1-4 players, cooperatively or uncooperatively. And, if you really get into it you can check your scores against the global leader boards.
We played this with 1, 2, 3 and 4 players and the verdict was unanimous. It's not a game that you'll want to play ever again once you've been forced to play it the first time.
3
Nick Smithson