Double Pug Switch

Format: PS4
Publisher: aPriori Digital
Developer: The Polygon Loft
RRP: £6.49
Click here to buy from store.playstation.com
Age Restrictions: 3+
Release Date: 15 October 2020
After an accident in the lab, involving the mischievous cat Whiskers and some Portal Fluids, the professor's dog Otis and Whiskers are sucked into an alternate dimension. Challenge yourself with side-scrolling alternative dimension switching mania requiring lightning quick reflexes to jump, hop, and dimension swap your way to victory. Hop, dimension swap and navigate your way through unique dimensions to chase down Whiskers and save him from his evil wrongdoings...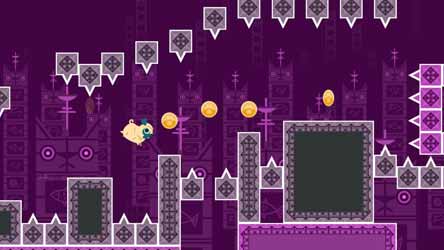 Double Pug Switch is a side scrolling platform game that... well, to be perfectly honest, feels out of place on the PS4. This is the sort of game that you might get a little fun out of (on a lazy afternoon) on your tablet.
The game is pretty easy to get to grips with, but fiendishly difficult to master. Unfortunately this "fiendishly difficult" aspect will probably be the part of the game that has you turning off after a very short while. I found this game was better if you limited yourself to very short bursts.
You start the game with fairly simple levels. Otis, the pug dog, has been sucked into an alternate dimension. While he constantly runs through the levels, your job is to help him reach the end by tapping once on the jump button for small leaps, and holding the button down for larger bounds. You can't make Otis stop, or turn around, you just have to time the jumps to ensure you miss any gaps or deadly obstacles in your way.
Then, just when you think you've mastered it, the game throws in an additional dimension - literally. You can see obstacles in your way and platforms, but some of them are in a second dimension, so you need to hit another button to quickly switch to that dimension... and back again, when you encounter areas from the original dimension.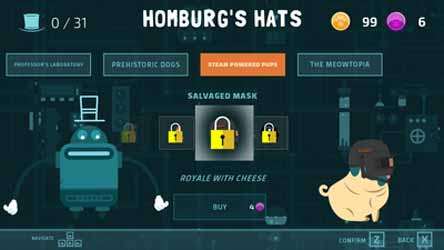 There are unlockable hats that add a little extra fun to the gameplay... but not a great deal.
And that's pretty much it. If I'm being perfectly honest, if it weren't for the fact I was reviewing this I probably wouldn't have played for as long as I did. This is the sort of game that would have been a blast (but still a little limited) back in the '80s on the ZX Spectrum. It's a shame, because what it does it does well, it's just not very engaging.
3
Nick Smithson