Pumpkin Jack

Format: Xbox One
Publisher: Headup Game
Developer: Nicolas Meyssonnier
RRP: £24.99
Click here to buy from Xbox Marketplace
Age Restrictions: 12+
Release Date: 23 October 2020
Pumpkin Jack is a spooky 3D platformer in which you embody Jack, the Mythical Pumpkin Lord. Dive into an adventure through otherworldly landscapes and help the Evil annihilate the Good. Follow the will of the Devil himself and slay your nemesis in a quest that will take you on a journey in the Boredom Kingdom, a mythical realm shattered by the Curse. You will meet friends along the way, from a haughty Owl to a snarky Crow...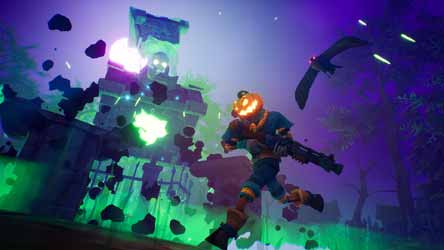 Pumpkin Jack feels like something of a missed opportunity.
Pumpkin Jack is a pretty run-of-the-mill platform game that feels like something of a missed opportunity. While it has the spit and polish to make it feel like a large budget offering, this acts like a veneer to try and cover up what is lying beneath.
It's painfully formulaic and hackneyed, and you'll get frustrated and fed up much quicker than you'll be expecting. The biggest problem, other than it's just so unoriginal, is that the platform element is painfully frustrating. You know where you need to go, but the controls are fiddly and Jack's jump reach always seems to be a little more (or less) than you need in order to get to the next platform. So, you'll spend ages jumping and then correcting your direction in midair, or panicking and hitting jump again when you land and then having to change your direction so you can land back on the platform you just accidentally leapt from. In the end you start to feel like a new driver kangarooing all over the place.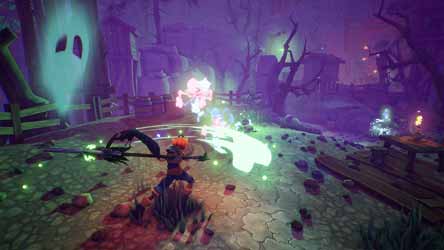 There's just not very much making you want to keep playing.
Stick with it and the controls soon become second nature. But then you're hit with the next problem... there's just not very much making you want to keep playing.
As I said before, it's beautifully presented it's just a shame more time and effort didn't go into making the game more... Well... Fun. While there are little side quests, boss battles and new weapons to find, it get old really quickly.
Having said that, if you're a lover of 3D platformers you may find this distracting, momentarily.
5
Nick Smithson