Bridge Constructor
The Walking Dead

Format: PS4
Publisher: Headup
Developer: ClockStone
RRP: £11.99
Click here to buy - store.playstation.com
Age Restrictions: 16+
Release Date: 19 November 2020
Join a group of survivors as they fight against hordes of undead walkers and a hostile human community. Build bridges and other constructions through bleak landscapes and ruined structures. Team up with fan favourite characters like Daryl, Michonne and Eugene, and create safe passage for iconic vehicles from the series. Use movable level objects, explosives and baits to your advantage as you lure walkers into lethal traps and guide your survivors to safety...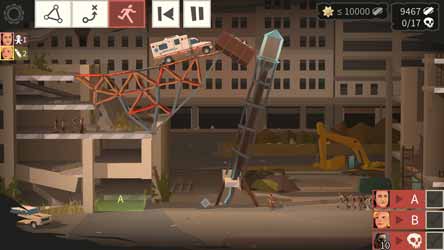 Bridge Constructor: The Walking Dead combines the legendary and challenging puzzle gameplay of Bridge Constructor with the post-apocalyptic zombie universe of AMC's The Walking Dead.
For those that have played and enjoyed the original Bridge Constructor, this Walking Dead variant adds extra twists, and is sure to draw in fans of both the TV and comic book series to see if their brain is fine tuned to solve physics-based construction puzzles. Each level has a puzzle (or series of puzzles) that see you having to wipe out any walkers in the vicinity and get your survivors to the safe zone. In the early stages it's simply a case of building a sturdy bridge for your team to cross, but as the levels roll on you'll need to construct structures that can support vehicles, get walkers to move to a different area and design traps to crush the undead.
As the levels roll forward you'll be given new materials and be able to use character's special abilities. Part of the fun is watching the walkers blowing up, being squished or coming up with other creative ways to put an end to their existence.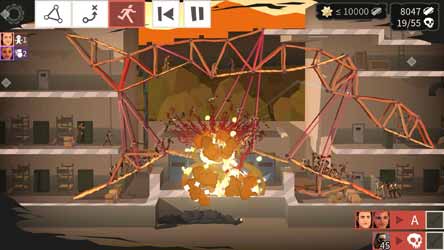 This is the perfect game to dip in and out of. Have a stab at a level, then come back later to iron out any imperfections that are stopping you completing your quest. Or tear everything down and start again if things are not working out for you. It's fun, addictive and for £12 it's pretty good value for money. It's sure to keep you entertained for hours. Plus there's plenty of replay value if you're creative and want to revisit old levels and design more elaborate constructions.
8
Darren Rea