Eldrador Creatures

Format: PS4
Publisher: Wild River Games
Developer: Independent Arts Software GmbH
RRP: £24.99
Click here to buy - store.playstation.com
Age Restrictions: 12+
Release Date: 01 January 2020
Eldrador Creatures is a PS4 game based on a set of collectable figurines from toymaker Schleich. The story of the creatures is that four worlds are under threat, Lave World, Ice World, Water World and Stone World. Each of the worlds is populated by creatures that you must defeat to obtain the Super Weapon, the one thing that will ensure your eventual victory...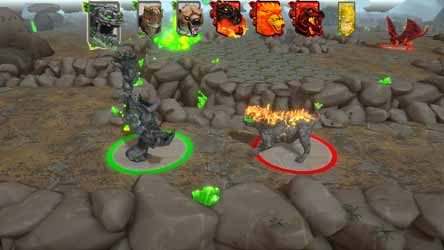 The game features a nice, bright cartoon aesthetic.
To go with the line of toys, a turn-based strategy game has also been released by Wild River Games. The game has four playable creature factions which reflect the world they live in. In all, there are twenty creatures within the game, some you play, some you fight. The game is predominantly aimed at children 7 – 12, so features a nice, bright cartoon aesthetic.
On starting the game, you are offered four save slots, which allows more than one child to have a game on the go. Within the menu, you have the choice to turn down the music, effects and voice acting, as well as turning off the creature sayings. I did not mess with any of this. The music is never grating or that intrusive, neither are the effects. The vocal acting, whilst a little cheesy – this is a kid's game - also only added to the game. The game has vocal tracks for German, English, French, Italian and Spanish.
You cannot change the controls, but there is a menu to remind you what they are. This is not going to be a problem; I was able to just pick the game up and run with it. There are enough initial tutorials to get you up to speed and I think most players will just intuitively work out how the game is controlled. Lastly, there is an option to enter a secret code which will get you more little monsters. More of that later.
When you start the game, you are offered a single creature to play as. It is not particularly strong, but then the opening battles are not hard. As you progress through battles more, stronger creatures become available, each of whom has their attributes, speed, shield etc.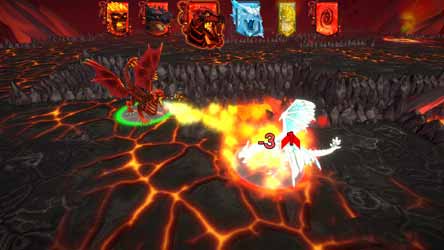 As you progress, stronger creatures become available.
Each world consists of a set number of battles. The playing area is presented as a top-down isometric environment. The worlds are colourful and graphically the game is genuinely nice to look at. The game will place your players, generally at one end of the game and the opponents at the other. As the battles progress the game introduces more elements, like pads you must stand on to create bridges or drop obstacles. Some buttons raise spikes in other parts of the game, useful if your opponent is standing there as you can deal damage without engaging in combat.
You always start first. The only thing I did not like about this is that it cycles through your characters without you being given the chance to change the order this happens. Generally, you move your character first, the game shows you the limit of your movement, you can then either use your creature's special move, some will throw a shield up or duplicate themselves. If you are near an opponent, then you can attack. You cannot use both the special move and an attack in the same turn. The game does allow you to scroll around the combat area to pick out obstacles, opportunities and, of course, the enemy.
Once all parties have had their turn you are presented with the special attributes. Here you can increase your attack, put up a shield, given your creature more distance to cover heal, boost your attack by one, or reduce the other creatures attack by one. The number of times you can do this is limited only by the number of small monsters you get after a successful battle. Beat the other monsters and you are presented with three small toy packets. Open them and a randomly coloured monster pops out and adds to the score of one of the above options.
You can replay earlier battles, as many times as you like.
This becomes important in difficult battles as you do not want to run out of health or have your creature get completely knocked out of the battle. You can replay earlier battles, as many times as you like to father more little monsters.
So, you do this through all four worlds before you get to fight for the Super Weapon.
It is easy to say that this is a single-player kid's game, and the level of difficulty reflects this, so I am not quite sure why I keep playing it. For the more adult audience, the strategy elements are presented well. Ideally, you want to win each battle in the least number of moves, to get three gold stars and this is harder than you would think, which allows for replay value.
7
Charles Packer