DARQ
Complete Edition

Format: Xbox One
Publisher: Feardemic
Developer: Unfold Games
RRP: £15.49
Click here to buy from Xbox Marketplace
Age Restrictions: 16+
Release Date: 04 December 2020
DARQ is a spooky puzzle game that tells the story of Lloyd, a boy who finds himself trapped in a creepy lucid nightmare. While exploring the abstract and dream-like world, Lloyd learns how to survive the nightmare by bending the laws of physics and manipulating the environment in the most unexpected ways...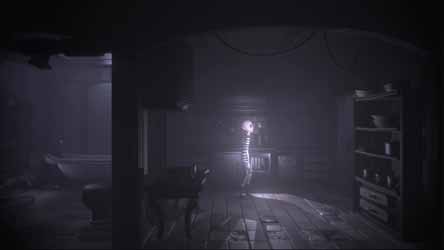 Engage in a journey through Lloyd's dreams.
DARQ: Complete Edition includes the DARQ base game as well as two DLC's: The Tower, and the never-before-seen The Crypt.
The game is presented in a black and white world and sees you engage in a journey through your character's (Lloyd) dreams, which quickly turn into a loop of nightmares. You'll need to open your mind to discover different perspectives in Lloyd's gloomy world.
On paper this is a pretty straightforward game. Lloyd can only move left and right, and can rotate the environment so that he can walk on walls and ceilings. The first few levels are pretty easy, allowing you the time to get aquatinted with the mechanics of this strange world. You can pick up items and interact with levers, switches and buttons in order to get to new areas. For the most part it's pretty easy to get to grips with and you never feel too out of your depth. While the puzzles aren't overly simple, on the whole I felt they were challenging enough without being too frustrating.
There are all manner of beasties that inhabit the world... all of which are creepy and have their own weaknesses which you can exploit. For example. there are monsters with lamp shades on their heads. When the light inside the shade is off you can run past them, but when their light is illuminated they will see you. When you are grabbed by any monsters you simply return to the room before to carry on your quest.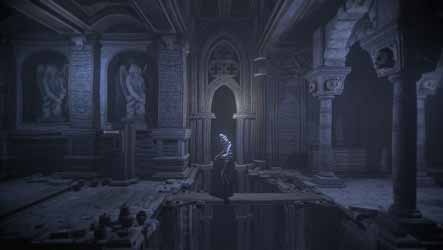 Environments are constantly changing as you move through the levels.
There's the occasional jump scare, which adds to the overall creepy vibe the game gives off, and the environments are constantly changing as you move through the levels, ensuring that you never get bored of your surroundings.
Overall this is a fun, engaging and well polished game that has such a low price point that you'd be foolish not to take a gamble on it.
9
Nick Smithson