Overcooked!: All You Can Eat

Format: Xbox Series X
Publisher: Team17 Digital Ltd
Developer: Ghost Town Games
RRP: £39.99
Click here to buy from Xbox Marketplace
Age Restrictions: 3+
Release Date: 08 December 2020
Kevin and the Onion King invite you to join them in the Onion Kingdom for Overcooked!: All you Can Eat. On the menu is over 200 levels of culinary chaos, including built-from-the-ground-up remakes of every original level from Overcooked! and Overcooked! 2, and all of the previously released downloadable content. As an extra dish, Overcooked!: All You Can Eat also contains an exclusive culinary adventure The Peckish Rises; which gives players access to seven new levels and three new chefs...
Communication is essential.
If fast, frantic, frustrating, fun party games are your thing then Overrcooked!: All You Can Eat serves enough mayhem than most can stomach [Sigh! Just get on with it - Editor].
Now while you can play this game in solo mode... you'll find it both challenging and not nearly as much fun as playing with others. Communication is essential here as you chop up ingredients, put them on the hob and then serve the resulting dish. Different levels serve up fresh challenges, like jumping between moving trucks.
Overcooked!: All You Can Eat comes with very every piece of Overcooked! and Overcooked! 2 content, remastered and available in 60 frames per second in 4K resolution. It also includes exclusive new kitchens and cooks; new levels and additional skins for every single chef. Accessibility options and a new assist mode opens the game to more players than ever before. Levels originally from Overcooked! are playable with online multiplayer support for the very first time. There's also a cross-play functionality which will be made available in a post-launch update.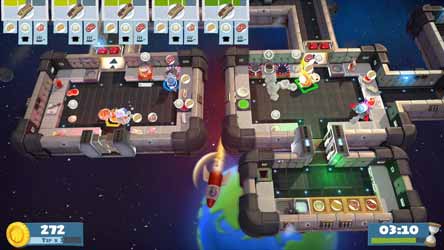 It also includes exclusive new kitchens and cooks.
There's few really good multiplayer games like this out there and so if you're a fan of the genre you'll get a huge kick out of this. Just make sure you go in with the right frame of mind, because it's very easy to get frustrated with your team mates when orders get messed up.
This is a hilarious game which will provide hours of fun for all ages.
8
Nick Smithson