Planet Coaster
Adventure Pack DLC

Format: PS4 / PS5
Publisher: Frontier Developments PLC
Developer: Frontier Developments PLC
RRP: £7.99
Click here to buy - store.playstation.com
Age Restrictions: 3+
Release Date: 10 December 2020
Journey into a breathtaking jungle experience with the Planet Coaster - Adventure Pack. Populate your park with snapping crocodiles and scary mummies, create gleaming pyramids and wondrous temples, and lure guests into ancient traps...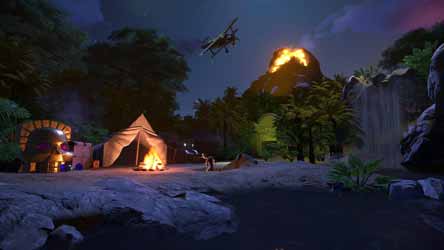 Create your own Indiana Jones / Lara Croft style adventure park.
The Adventure Pack DLC for Planet Coaster has just about everything you can think of to create your own Indiana Jones / Lara Croft style adventure park.
There's a mind blowing amount of extra content here for a ridiculous low price. From animated jungle animals (scorpions, crocs, snakes and hippos) to Aztec themed scenery and even animated mummies. There's planes and other vehicles as well as the chance to edit the plane to make it look as though it's crashed by switching out the propeller for another that's been crumpled, removing a wing, separating the tail and dotting a few fires around the wreckage.
There are rope bridges, animated tomb traps (like rolling boulders, spiked floors and swinging blades), statues, jewels... and an almost never ending supply of cool plants and other scenery pieces. There's also lava and fire effects and the ability to create waterfalls.
Oh... and then there's the additional rides. Gold Fever is a mine cart coaster hurtling guests over and through a curious temple. Island Adventure is a high-capacity boat ride designed for large bodies of water. Land Ahoy is Island Adventure's little sister, travelling down its own narrower waterways and with the added benefit of not requiring a body of water to be built on.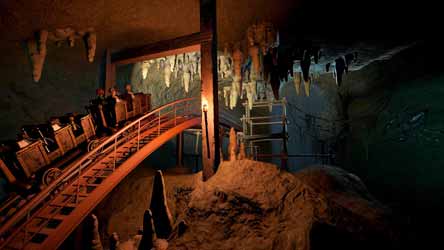 Gold Fever is a mine cart coaster hurtling guests through a temple.
We also get a new member of staff to patrol the park keeping guests happy, Renee Feu. With her dashing smile, aviation gear, and confetti gun locked and loaded, she brings a little extra adventure to your park.
You'll want to spend hours adding scenery to the boat rides to make them as engaging and fun for your park guests as possible... and with this DLC not only does it make that task easy... but it's also a hell of a lot of fun.
10
Darren Rea