Planet Coaster
Spooky Pack DLC

Format: PS4 / PS5
Publisher: Frontier Developments PLC
Developer: Frontier Developments PLC
RRP: £7.99
Click here to buy - store.playstation.com
Age Restrictions: 3+
Release Date: 10 December 2020
Embrace spook-tacular new supernatural content in Planet Coaster's new Spooky Pack DLC. Thrill your guests with surprises lurking around every dark corner. The DLC contains spooky new scenery pieces that let you transform your parks into sinister sensations. Pick the likes of gurning gargoyles, flapping bats, and billowing curtains to really drive the horror home. Use Spooky Pack construction pieces on their own or together with existing sets. Thanks to Planet Coaster's piece-by-piece construction tools, you can mix, match, remove and reuse to your heart's content...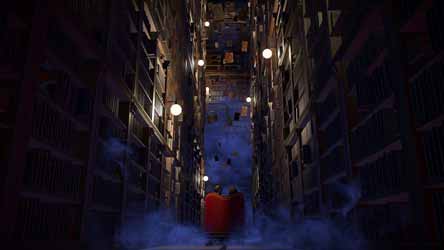 Create your own spooky haunted rides.
The Spooky Pack DLC for Planet Coaster is the one pack I've been looking forward to.
Whenever I go to a themepark the haunted attractions are the ones I most look forward to visiting. I think it's the combination of trickery and spooky attention to detail that impresses me. Everything has to be just right. From the creepy music, the little touches in the sets and the clever magic that makes things come to life.
With the Spooky Pack there are so many bits and pieces to ensure that you can really build the ride of your dreams. There's pumpkins (plain and carved), plenty of elements so that you can construct your own scarecrow. There's a good selection of creepy looking picture frames and a selection of curtains that billow in the wind. There's a few graveyard props, including an open grave and plenty of fences and metal railings. There's also weather effects including thunder clouds and lightning strikes and neat little touches like bugs which climb up walls.
Under the animated characters we have a selection of skeletons, spiders, rats, rocking chairs, bats, ghouls, crows, whilst buildings include parts to make a crypt and haunted house.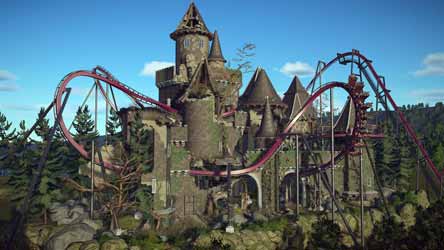 Build a huge haunted mansion for your coasters to wind around.
For new rides we get The Hoax, which is a free-spinning haunted house ride. The Huntsman is designed to rotate on an axis, putting your guests face-to-face with ghouls and ghosts. This means you can set spooky scenes up so that your guests can't see them, and then, as they get nearer you can quickly twist the carriage around to face whatever horrors you have awaiting them.
We also get a new member of staff in the form of "Planet Ghoster" - basically the Planet Coaster mascot with a sheet thrown over him, which amused me way more than it probably should have.
This is a wonderfully thought out collection that really offers a lot for £8.
9
Darren Rea