Formula Retro Racing

Format: Xbox One
Publisher: Repixel8
Developer: Repixel8
RRP: £4.99
Click here to buy from Xbox Marketplace
Age Restrictions: 3+
Release Date: 15 May 2020
Formula Retro Racing is an old skool arcade racing game that's influenced by the classic arcade racing games of the early '90s. Featuring fast and exciting game play, crisp low poly visuals, retro soundtrack and high speed action. Race through a diverse range of tracks across various game modes to beat your personal best times and compete in the leaderboards...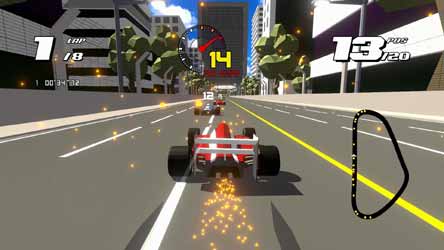 Formula Retro Racing pays homage to arcade games of the early '90s
If, like me, you grew up in a time where your holidays by the coast meant you also got to pour your hard earned pocket money into arcade machines for a few moments of futuristic fun... Formula Retro Racing will bring a little of that nostalgia flooding back. And at £5 you're definitely getting your money's worth here.
It's a simple game with bold and familiar looking blocky graphics. You have a number of options including Arcade racing, Grand Prix, Eliminator or Practice. For all of these you can chose the difficulty settings, the colour of your F1 car, whether it's automatic or manual transmission, which race track you want to speed around and how many laps.
For every race you start at the back of the pack and have to fight your way to the front. You are allowed a certain number of collisions before your car is damaged too much and you respawn at the point you crashed. It's quite satisfying when you accidentally hit another car and it explodes into several pieces as you fly past.
It's easy to see where you are on the circuit and how close your competitors are thanks to a large map of the track in the bottom right hand corner. The race circuits range from easy (where you can pretty much just keep your pedal to the metal) to challenging (where you'll need to alter your speed for almost every twist and turn).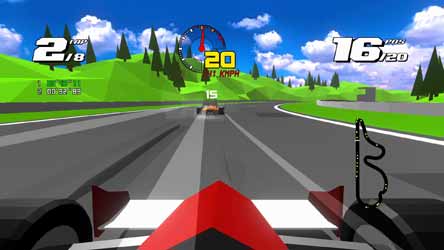 There are three camera angles to choose from
In Arcade you simply race around the track as you make your way up the field in order to finish the race in first place. In Grand Prix you compete in several races against 19 other AI controlled cars. Don't worry if you do badly in one race as you have plenty more to keep crawling up the rankings. In Eliminator you'll need to make your way from 20th to 10th (or above) position in the first lap and then stay there as lap after lap the AI drivers get quicker and quicker.
For the younger gamer there's very little here to keep them coming back, but I found it to be addictive and challenging enough to keep dragging me back long after I should have moved on to something else.
A fun, and very cheap game that is well worth buying, especially if you grew up on '90s arcade racers.
8
Nick Smithson