Bezier
Second Edition

Format: Nintendo Switch
Publisher: Nintendo
Developer: Thalamus Digital
RRP: £19.99
Age Restrictions: 7+
Release Date: 21 January 2021
Bezier: Second Edition, from Thalamus Digital is out now for the Switch. It's a top down, frantic, bullet-fest. There is a narrative, when playing in PLAY mode, but there is so much going on, that you're going to have very little concentration left for that.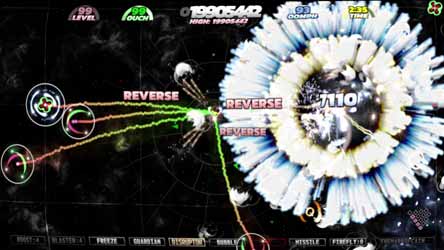 The game has three, very similar play modes. Play, Endurance and Daily. Play is the story mode, but like I have already noted the game is so fast and frenzied that it would take a master multi-tasker to take anything other than a cursory interest. Endurance is as it says, waves and waves of enemies arrive for you to kill. The play continues until you run out of luck and are destroyed. The Daily challenge is more of the same, though I think this is here to connect to the online leader board.
Each of the modes has three difficulty settings, easy, medium and hard. There are various changes in your power-ups, your score multiplier, speed and damage.
The game is played on a large square area, the idea being you rack up a score by destroying the other things flying around. The visuals are artfully produced, like asteroids on acid, the game even gives a nod to its progenitor by including actual asteroids.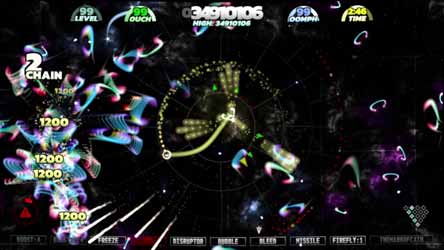 Your character is free to move in any direction and you have a form of radar which highlights the direction of bosses and powerups. It's a two-stick game, the left controls your direction of flight, while the right is a directional canon. If you find this difficult you can use the X button for auto aim, though this comes with a cooldown feature, so you can't fly around just holding the X down. There are also a few special weapons, like missiles, which also have a cool down.
The game is easy to get into and the controls are intuitive, an ideal distraction to pick up for a quick play.
8
Charles Packer