The King of Fighters
2002: Unlimited Match

Format: PS4
Publisher: SNK Corporation
Developer: SNK Corporation / Code Mystics
RRP: £12.99
Click here to buy - store.playstation.com
Age Restrictions: 16+
Release Date: 08 February 2021
Exceed your limits and unleash your unlimited power. The new mysterious character Nameless dukes it out with KOF fan favourites, including those from the Orochi and Nests sagas, in this massive 66 character brawl. Online play is fully supported by cutting-edge rollback netcode. Also, having your ten most recent online matches automatically saved for your viewing (dis)pleasure on top of matchmaking cool-downs to prevent matching with the same person over and over again means players have more tools than ever to improve on their game. Take on the world's strongest players and unleash your true potential...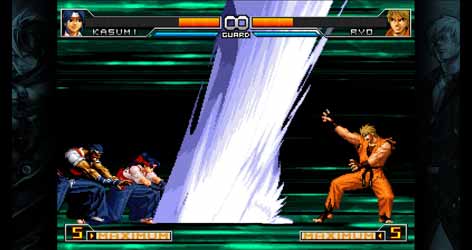 The game is a loving homage to the arcade brawlers of old.
Released for the PS2 back in 2009, The King of Fighters: 2002: Unlimited Match is a loving homage to the arcade brawlers of old.
The game features a total of 66 characters – the most playable characters in the KOF series: With DNA from Kyo and K', this title's original character Nameless is ready for action In addition to characters that appeared in the original KOF 2002, formidable fighters from The Nests Chronicles as well as additional characters and hidden characters keep popping up to fight.
While this release has updated graphics and production, it still very much keeps the look and feel of the original game - including the outdated exploitation characteristics of some of the female characters. Also updated is the sound, cut scenes and winning sequences... as well as plenty of new and old moves that have been brought back especially for this title.
As with any button mashing brawler of this nature, key to success is working out the moves, combos and special attacks, so you're going to have to invest a lot of time and effort in building up your skill on as many characters as possible. But if all else fails... mashing away at those buttons in a random fashion in the early stages will garner results.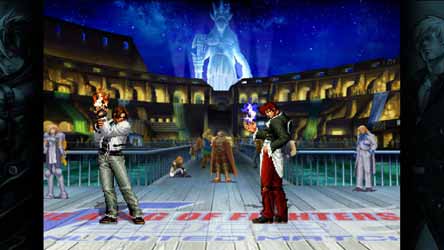 It still very much keeps the look and feel of the original game.
A total of 50 different moves can be practiced in both "normal" and "expert" difficulties, while in "Challenge Mode", players can also create original combos in "Practice Mode". There is also "Endless Mode", where players can battle against the CPU for as long as their endurance will allow.
As fun and frantic as this game is, the retro feel may put more modern gamers off. However, if you remember the series from its original arcade days then there's enough nostalgia to be had here to make it worth picking up.
7
Darren Rea