Little Nightmares II

Format: PS4
Publisher: Bandai Namco Entertainment Europe
Developer: Tarsier Studios
RRP: £24.99 (standard edition); £34.99 (deluxe edition)
Click here to buy - store.playstation.com
Age Restrictions: 16+
Release Date: 11 February 2021
Return to a world of charming horror in Little Nightmares II, a suspense adventure game in which you play as Mono, a young boy trapped in a world that has been distorted by the humming transmission of a distant tower. With Six, the girl in the yellow raincoat, as his guide, Mono sets out to discover the dark secrets of The Signal Tower. Their journey won't be easy; Mono and Six will face a host of new threats from the terrible residents of this world. Will you dare to face this collection of new, little nightmares...?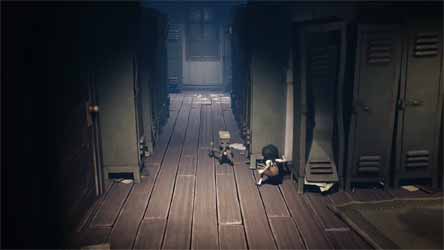 Play as Mono, a young boy trapped in a surreal world.
Little Nightmares II is a puzzle platformer with a seriously creepy vibe. You play as Mono, a young boy, trapped in a surreal world where inanimate objects come to life.
The backdrops in the early levels indicate that something is not quite right... discarded shoes and offal are strewn everywhere.
One of the highlights for me with this game is that it never lets you get comfortable before switching it up a level. In the very early stages giant animal traps are hidden under the leaves. The trick is to throw shoes or any other items you can see ahead of yourself to set the traps off... but this part of the game only appears briefly before the developers move onto something else in order to keep you on your toes. The game is full of these little touches. By not returning to them, as a lot of games do, it ensures that the gameplay is always fresh and constantly jarring.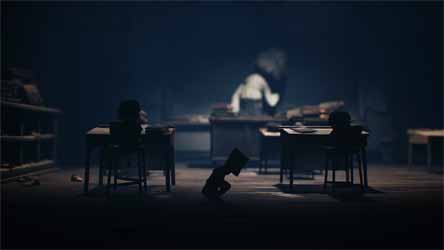 The scenes in the school are particularly weird.
Without spoiling too much, there was part of the game where I smashed something and then I quickly worked out that I could use that as camouflage to hide in plain sight.
The realisation that I'd worked this out (despite the fact you can't progress unless you do) gave me a satisfying thrill. Again, this particular little twist only happens the once, allowing the developers to constantly try to top their last trick.
Each of the game's five levels has its own giant monster for you to outwit. This is where the game gets seriously creepy. The scenes in the school are particularly weird. Another element that helps with the creepy vibe is the way the characters are animated. Your character, and that of all the creatures you meet, is very much in the style of classic stop motion animation. In fact, the school boss is very much in the mould of a classic Ray Harryhausen monster.
The puzzles aren't overly taxing, and the developers have pitched it at about the right level. Any easier and it would have been too much of a walk in the park, any harder and it would have been frustrating. However, should you get stuck there's plenty of help online. I reviewed this a week before launch and there were already a number of walkthrough videos available.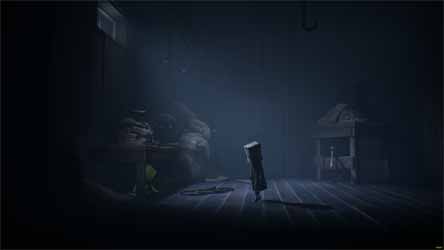 Mono is helped in his quest by Six.
There's the occasional fiddly timing in order to get past certain puzzles, but for the most part this isn't an issue.
If you've played the first game in the franchise, then you'll love the fact that Six, and her yellow raincoat, returns. This time, instead of you controlling her, she's handled by the AI and is there to help you.
The game also has a deluxe edition release. This retails for an extra £10 and includes the following elements that you don't get with the standard edition: The Nome's Attic DLC, Digital Soundtrack, Digital Artbook, Dynamic Theme and 2 Avatars.
It's fun, novel and downright creepy. It's certainly a game that's worth investing your time in.
9
Darren Rea