Planet Coaster
Vintage Pack DLC

Format: PS4 / PS5
Publisher: Frontier Developments PLC
Developer: Frontier Developments PLC
RRP: £7.99
Click here to buy - store.playstation.com
Age Restrictions: 3+
Release Date: 25 February 2021
Experience the golden oldies with the Vintage Pack. It features two new coasters, five new rides, and over 230 scenery pieces to help you build a retro wonderland. Bring the old-school cool with barbershop quartets and trapeze artists, decorate your parks with historic props, and add more bygone magic with fortune-teller cabinets and popcorn machines...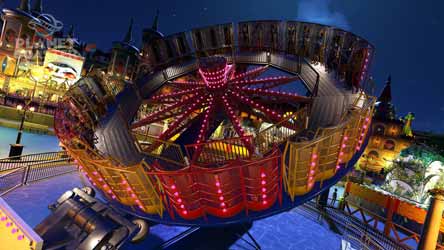 Centrum spins riders on dynamically tilting centrifuge.
Just a few miles away from where we live is Dingles Fairground Heritage Centre, a vintage working fairground and museum that we only discovered a few years ago and (once Covid restrictions are lifted) one we'll be visiting a lot in the future. like Dingles, Planet Coaster's Vintage Pack DLC brings to life some old fashioned rides and attraction as well as plenty of scenery and buildings.
Zephyrus is the largest coaster. A high-speed wooden behemoth, it recalls the earliest designs. Then there's Aces Sky, where retro biplanes freely navigate a large wooden pipe. Round the World, meanwhile, is a wild Ferris wheel that shifts on its axis. Test Flight sees a fleet of aircraft bank and barrel roll round a pillar, while Centrum spins riders on dynamically tilting centrifuge. Rounding off the list are Loop Da Loop, where inverting cabins swing occupants, and Hurricane, that twirls guests in two-seater cars.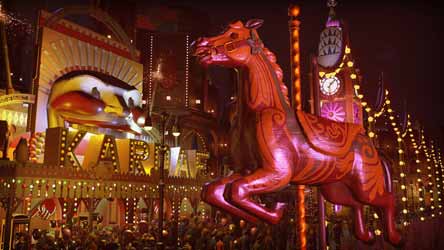 The blueprints are colourful and will certainly stand out in any park.
There are the usual shops, toilets and scenery additions including a rather cool vintage barbershop quartet singing group and a hot air balloon scene which sees a victorian era balloon arrive and depart from its beautifully manicured lawn scene. There are shop blueprints which collect together a number of the key shops, as well as an arcade that incorporates attractions including a grabber, popcorn machine and fortune teller. You can also set up an acrobatic theme thanks to a number of animated acrobats and trapeze artists. The blueprints for some of the builds are huge, colourful and will certainly stand out in any park.
Personally I really loved this DLC, but if you're not a great fan of classic, old theme parks then you'll probably find this a little too retro.
9
Darren Rea