Spacebase Startopia

Format: PS4
Publisher: Kalypso Media
Developer: Realmforge Studios
RRP: £49.99 / £53.99 (extended edition)
Click here to buy - store.playstation.com
Age Restrictions: 7+
Release Date: 26 March 2021
Spacebase Startopia is a space station management game that incorporates an original mixture of economic simulation and empire building strategy paired with classic RTS skirmishes and a good dose of humour. Experience the galactic dream: managing your very own doughnut-shaped space station. Overseen and assisted (when she feels like it) by the base's sarcastic on-board AI, play Commander to your very own floating home-away-from-home on the station's three unique decks with a variety of gadgetry while tending to the wants and needs of a diverse array of vacationing extra-terrestrial lifeforms. In multiplayer, up to 4 players can work together to build the galaxy's greatest getaway, or seek oblivion unto their rivals with daring feats of economic sabotage...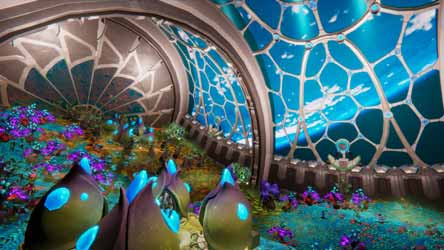 Manage your very own doughnut-shaped space station.
It's a brave effort, but Spacebase Startopia is not really designed for consoles. This is a game that needs the mouse and keyboard of the PC in order to get the most out of it. While the developers have tried valiantly to make this as intuitive as possible on consoles they've not quite pulled it off as painlessly as they no doubt intended.
The best place to start is the three-part tutorial. And if I'm being perfectly honest, if I wasn't reviewing this game I would have probably not progressed any further than this. The controls are all over the place. Sometimes you need to hit the the "X" to confirm actions and at other times the "O" button. And during construction if you press "X" to build your structure it actually resets all your hard work by cancelling the build.
I originally managed to work through the tutorial (with a little bit of trial and error) and then put the game aside for a few days. Returning to the game I tried the tutorial again, but found I was even more confused by it. There's a few instances where you're told to do something, but no matter what you do it won't progress. You actually have to go to another menu (not explained by the tutorial) to unlock something before you can progress.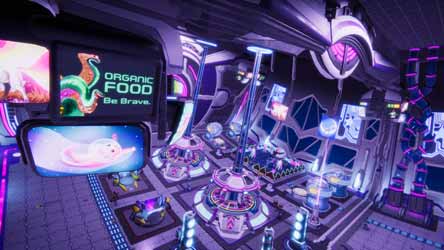 The single player campaign mode features 10 missions.
Even though I was still confused a little by the controls, I started a game proper. This is where you really learn the basics as you plod ever forward. And as you learn the dynamics of the game you soon get sucked into it and hours can whizz by.
The graphics are cute and bold and the game is a lot of fun (and a little frustrating at times) but as with most sims, it really is a game you get more out of the more time you invest in it.
The single player campaign mode features 10 missions as you strive to create one of the most attractive trade and tourism destinations in the known universe. Your station has three decks and it's balancing these where the challenges lie. The Sub Deck contains all of the Rooms vital for survival, while the Fun Deck focuses on your visitors, and finally the Bio Deck houses the flora and fauna that provides sufficient resources for survival as well as a home to the graceful Dryads.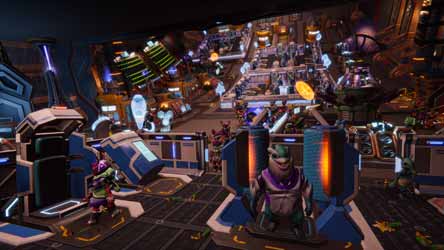 Create an attractive trade and tourism destination.
In addition to the single player Campaign and the battle mode, there are also competitive and cooperative multiplayer modes for up to four players. This is where you'll have the most fun with your friends as you sabotage or help one another.
For an extra £4 you can purchase the "extended edition" which includes: Special alien hat; Decorative statues; Skins for the Fuzzy droids and Skins for the Garbage Bots.
If you're a fan of strategy sim games then there is much to sink your teeth into here but be warned you might find getting your head around the controls a bit of a nightmare.
7
Darren Rea