Planet Coaster:
Ghostbusters DLC

Format: PS4 / PS5
Publisher: Frontier Developments PLC
Developer: Frontier Developments PLC
RRP: £11.99
Click here to buy - store.playstation.com
Age Restrictions: 3+
Release Date: 29 April 2021
Is your coaster park plagued by paranormal phenomena? Have you seen manifestations appear on your roller coasters? The Ghostbusters are here to help! Under the guidance of Dr. Raymond 'Ray' Stantz and the Ghostbusters, free your attractions from ghosts and restore fun and excitement to your entertainment parks...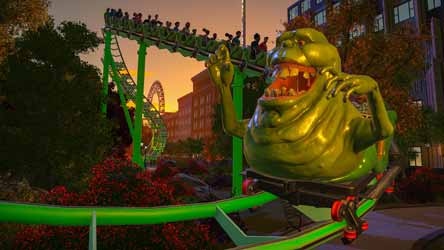 The DLC comes with a Slimer themed rollercoaster called RollerGhoster.
The Ghostbusters DLC for Planet Coaster adds not only a load of Ghostbusters themed logos, characters and other set pieces that can be used all over your park. It also comes with a kiddie Slimer themed rollercoaster called RollerGhoster (geddit?) and a dark shooting ride (The Ghostbusters Experience). This DLC has added storyline content in the form of challenges to complete. The story-driven scenario employs the vocal talents of Dan Aykroyd and William Atherton, who voice their roles as iconic Ghostbusters' co-founder, Raymond Stantz, and Special Agent Walter Peck, from the 1984 movie.
We get a new staff member in the form of a Stay Puft Marshmallow Man novelty park mascot as well as a driveable ECTO-1 Ghostbusters car which you can drive around your park. And the Stay Puft Marshmallow brand is available through new shops and a vending machine.
We also get lots of authentic scenery pieces and sounds straight from the 1984 original movie, including the Ghostbusters HQ, Spook Central, ECTO-1 and Ray Parker Jr's classic Ghostbusters theme; 'Ghostbusters (Instrumental Version)'; 'Ghostbusters (Acoustic Arrangement)' and 'Ghostbusters (Orchestral Arrangement)'. And for large pieces we get a spooky Library scene setter and The Temple of Gozer.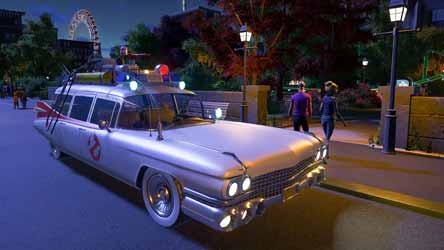 You can drive the ECTO-1 Ghostbusters car around your park.
While the additional storyline challenges are engaging and enjoyable, this DLC is let down a little by the fact that you'll need to be a huge Ghostbusters fan to begin with. I can't imagine fashioning an entire park out of the Ghostbusters pieces, but as a little corner in an established park it does make for an interesting change of pace.
Once again, Frontier has done a remarkable job of adding so much detail and thought into this pack. It's still a wonderful DLC, just slightly less interesting to me when compared to the other DLCs currently out there.
8
Darren Rea