Dark Nights with Poe and Munro

Format: Xbox One
Publisher: D'Avekki Studios
Developer: D'Avekki Studios
RRP: £9.99
Click here to buy from Xbox Marketplace
Age Restrictions: 16+
Release Date: 19 May 2021
Guide local radio hosts Poe and Munro through six TV-like episodes of supernatural strangeness and sizzling on-screen chemistry. Adventure in the strange town of August with local radio hosts and secret lovers Poe and Munro, as they encounter six unique mysteries on and off the air. Direct the banter and the action as they fend off a nightmare stalker who just won't let go, a vengeful ghost looking for everlasting closure, a demonic painting that grants wishes - and more - but can you keep Poe and Munro together, and alive...?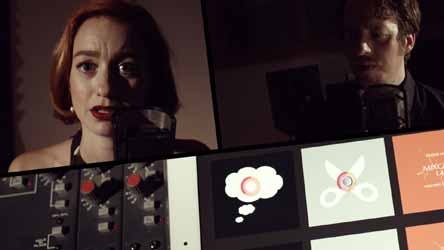 Adventure in the town of August with local radio hosts Poe and Munro
Dark Nights with Poe and Monroe is a six-part episodic full motion video (FMV) adventure game which sees local radio DJs John Pope (Poe) and Ellis Munro caught up in the supernatural goings on in the sleepy (although, apparently not that sleepy) town of August.
While it does a whole lot of things right - much, much better than you'll be expecting from a small independent studio - there are a few issues that take quite a bit away from what could have been an essential game. But let's look at the positives first.
The cinematography is incredibly well realised. Every shot is carefully staged to ensure that it looks more like an expensive drama series. This is especially the case on location shots. The comedy elements are also spot on Klemens Koehring's Poe and Leah Cunard's Munro have a real chemistry on screen. However, I wasn't convinced that they were having an affair. Their relationship feels more like lifelong friends who care for each other, but not romantically. Koehring's Poe is a little quirky and skeptical, while Cunard's Munro is positive and wants to believe in the supernatural. In one episode Cunard appears as one of Munro's past life incarnations. She couldn't be any further from her Munro character and it's here that you realise what an incredible actress she is.
Leah Cunard also appears as one of Munro's past life incarnations
The opening credits are beautifully photographed and the theme music is catchy and memorable. Likewise, the music in the game adds much to the atmosphere.
On the negative side the options, on occasion, aren't clear. Yes, you can see you have two options to choose from, but sometimes it's not obvious what either of the choices are, so you end up randomly picking one. The choices also don't really effect the outcome of the game. All you get, once each chapter is complete, is a breakdown of how you compared with everyone else who has so far completed that chapter (a little like the Telltale Games series of interactive games).
Also, while the photography is wonderful, at times it's a little too focused and you may be distracted by something small stuck in Poe's beard, or a bit of flaky skin on the tip of Munro's nose.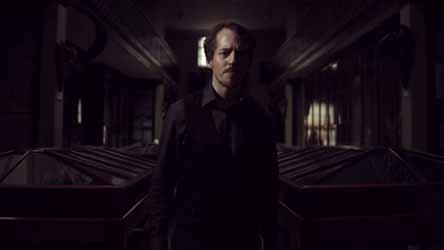 The Cinematography makes it look like an expensive drama series
In addition, Xbox achievements pop up which spoil what's about to happen. This is particularly noticeable on the last episode.
But by far the biggest issue is the actual writing of the episodes. Most of them made little sense and you really have to just go with it if you're to get the most out of the game. However, the final episode was where everything came together. If the entire game had been more like the last episode it would have been a much more polished and enjoyable experience.
It's an incredibly ambitious experiment, which pays off in the end. It's cheap enough to warrant recommending it, but there's very little replayability value here.
8
Darren Rea