King of Seas

Format: Xbox One
Publisher: Team17
Developer: 3DClouds
RRP: £19.99
Click here to buy from Xbox Marketplace
Age Restrictions: 7+
Release Date: 25 May 2021
King of Seas is an action role playing game set in a deadly procedurally generated pirate world. In a ferocious plot you fight to regain what has been taken away and embark on an epic adventure in a fantastic world, filled with battles, lost islands and treasures. A universe full of amazing characters and breathtaking missions will keep you anchored as you strive to become the king of all pirates...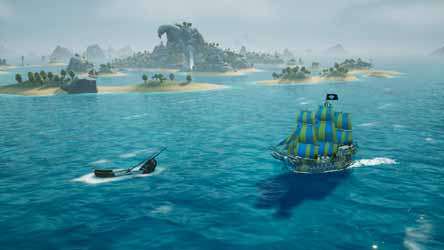 Sail the seven seas as a pirate
King of Seas sees you sail the seven seas attempting to learn the ropes, earn riches and claim back your rightful place as the king/queen of your father's lands. On your very first quest for your father, the king, you get word that there's a bounty on your head. The king is dead... murdered the second you left port... and you have been framed for the crime. Luckily, for you, a group of pirates take you under their wing. This band operate on the fringes of your previous world. You are given a new command and as captain of your vessel you need to rise through the ranks, upgrade your ship and evade being captured by your hunters.
The world reacts to your every action, naval routes change and with each conquered settlement the difficulty adapts to constantly give you more of a challenge time.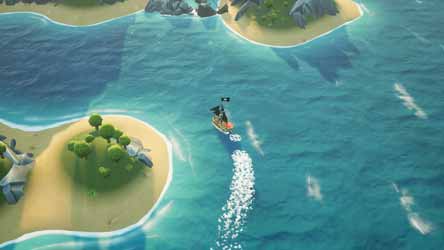 Raise / lower sails to alter your speed
Navigating your vessel is easy. You have three speeds, which are achieved by raising more sails to the wind, and a map that shows you your next objective as well as points of interest. It's pretty sparse in the early stages of the game. But as you progress you can chart more of your surroundings, plus use treasure maps to find hidden goodies.
The only slight issue here is that you only have three camera angles, which zoom in/out on your ship. You can't really see that far ahead, so sometimes getting around land masses is a bit of a pain. As you're sailing you'll need to be on the lookout for shipwrecked souls on rafts, floating goodies and fishing spots. But you'll need to avoid giant sea monsters, and barrels that explode when you come into contact with them.
As you travel from port to port you can trade your wares
When fighting other ships you can change your cannons as well as equip some of the 20+ skills on offer. As you travel from port to port you can trade your wares. Buy low and sell high to become a successful trader.
While I did enjoy this game it did become a little old a little too quickly. It feels very much like a watered down Port Royale game, but the quests and battles soon start to get a little tiresome. Graphically it's interesting and there's certainly a niche for this sort of game. But it's a little shallow and I started questioning whether I could be bothered to continue after my vessel was sunk.
6
Nick Smithson