Port Royale 4

Format: Nintendo Switch
Publisher: Kalypso Media Group GmbH
Developer: Gaming Minds Studios
RRP: £44.99
Click here to buy - nintendo.co.uk
Age Restrictions: 12+
Release Date: 28 May 2021
Port Royal 4, developed by Gaming Minds Studios has been released for the Switch.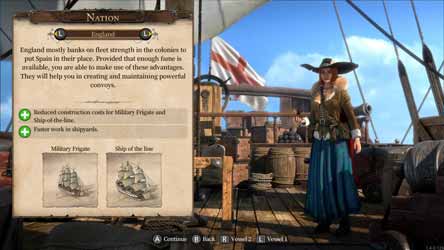 Port Royale 4 is a real-time, strategy trading game
The game is a real-time, strategy trading game, set in and around the Caribbean during the 17th Century. In this arena the sailing powers of England, France, Spain and the Netherlands contest with each other to grow their trading empires and crush their enemies. The large map encompasses the Caribbean Sea and the Gulf of Mexico.

You start the game as a humble governor of a small colony. You aim to grow from these lowly beginnings into a major trading city for whatever country you choose to represent.

You start with a single ship. Its job is to travel between the sixty colonies trading goods for profit. So, you need to identify which colonies have an excess of goods and which are in need this is how you make the profit you are going to need to build your colony and buy more ships.

If you set up good trade routes you can hand over the running of the routes to the AI, allowing you to get on with other stuff. It is best to keep an eye on the routes you set up for profitability. Flood a market with a resource and the prices will fall, losing you money. Likewise, if your route is too long you might not be making a profit, you may even make a loss.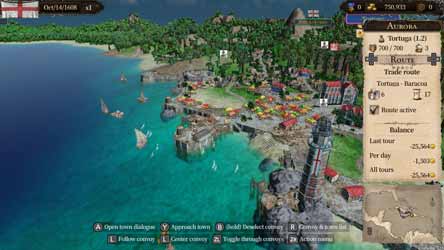 Travel between the sixty colonies trading goods for profit
As well as setting up multiple trade routes, you also have a Viceroy that you must answer to. He will set you tasks to fulfil, through these tasks you increase your fame, which in turn allows you to unlock more resources, including ships and buildings.

Given the premise of the game, you are going to spend most of your time at sea. The map has dynamic weather, and the map offers you details of storms and sea depth. It is also useful for hunting down vessels of your rival nations and pirates. Should you wish to engage in naval battles these are presented turn-based, with up to eight ship engagements.

Because of the depth of gameplay, the game comes with numerous tutorials, it is recommended that you go through these as you will be balancing building your colony, getting into naval battles and setting up trade routes. There are two modes of play, Campaign and Free Game. The Campaign mode is the main game, the restriction here is that you must start by playing the Spanish to unlock the other nations. Free Game allows you to play as any country.

Hunt down vessels of your rival nations and pirates
Graphically the game is good as is the ability to zoom around the detailed map. The game is not really about the graphics but the trading, building and battle tactics.

It is a good game, the ability to zoom right into the map means that the game works just as well on the lite as well as the full-sized Switch. My only reservation is that the text remains small on the Lite.
8
Charles Packer