Orcs Must Die! 3

Format: Xbox One / Xbox Series X/S
Publisher: Robot Entertainment, Inc.
Developer: Robot Entertainment, Inc.
RRP: £24.99
Click here to buy from Xbox Marketplace
Age Restrictions: 12+
Release Date: 23 July 2021
Slice, burn, toss, zap, grind and gib massive hordes of repugnant orcs in this long-awaited successor to the award-winning Orcs Must Die! series. Orcs Must Die! 3 ushers orc-slaying mayhem to a previously unimaginable scale. Solo or with a friend by your side, arm yourself with a massive arsenal of traps and weapons...
Unlock new traps and weapons in order to ensure all orcs die
Orcs Must Die! 3 is an engaging, easy to pick up and play, challenging offering from Robot Entertainment.
When you strip it down to its bare bones, there's not really much to it, but the real fun is in reworking your strategy and fine tuning your approach to each level. And, as you progress and unlock new traps and weapons, or upgrade your existing inventory, it's worth going back to those earlier levels and earning more credits to upgrade items even more.
You'll want to start with the main campaign, where you learn about the basics. Here it really is worth taking your time and not rushing through the levels - which is pretty impossible anyway. The challenge is simple enough. You guard the rift room, which is home to a rift to another dimension. Orcs smash down the main door to your castle and make their way through the passageways to the escape through the rift. Your job is to stop them. This is achieved by placing traps in their path, to dispatch as many of them as possible, while using your weapon to pick off those that make it through.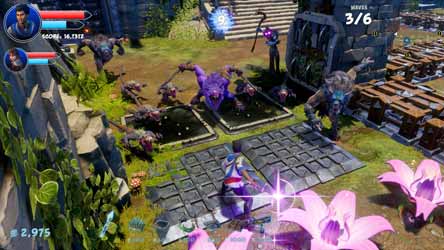 Encounter new beasts, all of which have a different strategy
It's worth replaying a level until you manage to get all five stars (which is basically making sure you kill all beasties without letting any of them escape).
As you progress through the levels you unlock more weapons and traps, as well as earn points to upgrade existing weapons and traps. You'll also encounter new beasts, all of which have a different strategy to get past you and escape.
While the early levels look chaotic, there's way more to come in additional modes. War scenarios pit players against the larger orc armies. Mountable war machines give players the essential firepower to heave, stab, carbonise, and disarticulate the abominable intruders.
Confront overwhelming armies of orcs outside on the battlefields surrounding the castles. Thin out waves of orcs hundreds strong before they breach the walls and dive into your rift.
Discover how you compare to players all over the globe
There are also weekly online challenges where you can see how you compare to players all over the globe. Or why not see how long you can survive in Endless Mode.
For £25 this is pretty good value for money and should easily keep you amused for weeks, possibly months. Some may get bored of the repetitive nature of the game play, but if you love fine tuning your approach to ensure that none of your enemy can escape, then you'll have a blast.
8
Nick Smithson