The Ascent

Format: Xbox One / Xbox Series X/S
Publisher: Curve Digital
Developer: Neon Giant
RRP: £24.99
Click here to buy from Xbox Marketplace
Age Restrictions: 18+
Release Date: 29 July 2021
Welcome to The Ascent Group arcology, a corporate-run metropolis stretching high into the sky and filled with creatures from all over the galaxy. You play as a worker, enslaved by the company that owns you and everyone else in your district. One day, you are suddenly caught in a vortex of catastrophic events: The Ascent Group shuts down for unknown reasons and the survival of your district is threatened. You must take up arms and embark on a new mission to find out what started it all...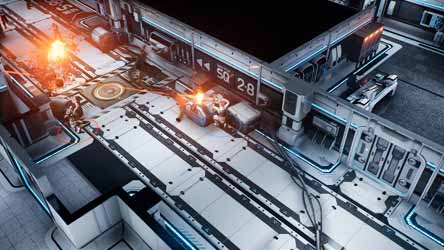 The Ascent is set on Veles, a packed cyberpunk world
The Ascent is a solo and co-op Action-shooter RPG, set on Veles, a packed cyberpunk world.
The game has a top-down view, with you looking down at your character and environment.
The environments are of a dystopian future with giant robots, alien co-workers and plenty of enemies. Make allies as well as enemies as you explore the brimming arcology and its wide range of districts, from the deep slums to the higher luxury spheres.
While the controls and gameplay are fairly straightforward, the game is relentlessly punishing. Personally, I found it challenging enough to make me want to keep playing and not let it beat me. But as you progress it can be extremely frustrating (but in a good way) as you'll need to constantly be on the look out for ammo and medikits to keep you alive.
Explore the deep slums to the higher luxury spheres
If you're not used to this style of game, it can take a little time to get used to firing your weapons in the right direction. And, as ammo is in short supply, you'll want to practice your aim as much as possible in the early levels, because once you start to progress, your enemies get tougher.
Dying is not a huge issue (thankfully - as you'll die a lot) as you simply respawn and can continue on your merry way. All weapons are upgradable, and you can also customise your appearance, as well as wear collectable items including armour.
The game can be played solo, or co-op with up to three friends in local or online play. Overall, a lovingly crafted game in a retro style, which is punishing enough that you'll feel like you're achieving something as you progress through the environments.
8
Nick Smithson