Get Packed: Fully Loaded

Format: PS4
Publisher: Coatsink Software Ltd
Developer: Coatsink Software Ltd
RRP: £13.99
Click here to buy - store.playstation.com
Age Restrictions: 7+
Release Date: 29 July 2021
When a greedy salt mining company takes over Ditchlington, Last Ditch Removals must handle the hostile eviction. With little time and even less caution, your ragtag removals team gets to work rapidly relocating the entire town... leaving a trail of destruction, explosions, and debris in your wake! Get Packed: Fully Loaded is the expanded edition of the couch co-op removals game that's full of calamity and physics-based carnage for 1-4 players...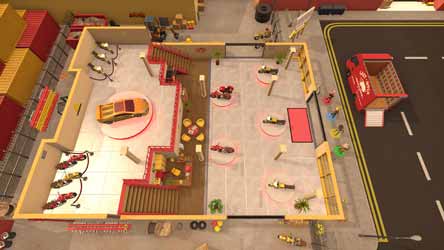 You and your ragtag crew are tasked with emptying buildings
Get Packed: Fully Loaded is a fast, frantic game of chaos and destruction. You are part of a four man household removal crew who are just setting out on their badly informed business. For a bunch of uncoordinated, clutsy no hopers, your ragtag crew are tasked with emptying houses within a certain time frame.
Get Packed is relentlessly punishing. You need to achieve at least 1 out of 3 stars in order to unlock the next level. It's very unlikely that you'll manage to achieve 3 stars as a single player as you're really going to need all 4 of your crew. You can make up your full team by playing locally with friends, or online.
Each level sees you playing against the clock as you try to get as much stuff in the van. If it gets too full you can send it off to its destination (which will bank the money you've so far earned) and after a short while it will return empty so you can load more possessions. The client may ask for certain items (which earns you more cash), but you must make sure that your last van load has been sent on its way before the time runs out (or you'll lose the money earned on that load).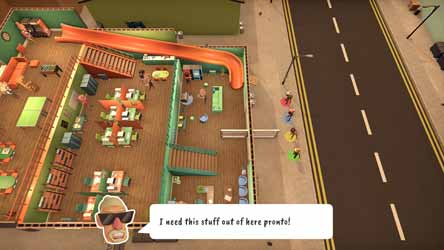 Play against the clock as you try to get as much stuff in the van
You can use both arms to pick up items. This means that you can carry two light items or one heavy item and if you try to remove an appliance that's wired into the mains electricity supply, you'll need to hold it and press the dash button in order to yank it from its housing.
There are elements in your environment that can help you. For example, if you pull a "stop" sign from the ground you can use it to stop cars (as long as you're holding the sign) allowing you to cross roads safely. Have a haunted house that is causing problems? Grab a vacuum cleaner to suck up those pesky ghosts.
If you're finding that you're damaging items as you load them (which loses you money) or that the van gets too full of items too quickly, you can pack almost all of the items. For this you must hold the item with both hands and press a button that sees the item being packed into a box.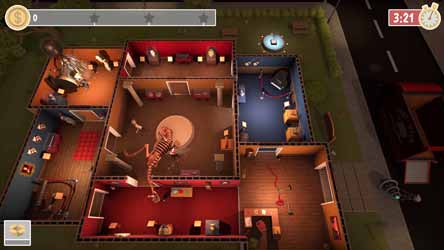 Play alone, or with up to three other friends
I did have a few issues. Firstly "packing" items is not as simple as it should be and I wasted a great deal of time trying to grab and regrab items that for some reason seemed to be hard to hold with both hands. In addition, things rattle around in the back of the van too much. And if you rush in with an item when the van is full you'll find it almost impossible to get back out without knocking half of the already packed items out onto the road.
While you can play this game alone, you're going to find it much more satisfying, and a hell of a lot more fun, if you play with friends.
7
Darren Rea