Deadly Days

Format: PS4
Publisher: Assemble Entertainment GmbH
Developer: Assemble Entertainment GmbH
RRP: £15.49
Click here to buy - store.playstation.com
Age Restrictions: 16+
Release Date: 04 August 2021
Deadly Days is set during a zombie apocalypse. Manage and protect a group of survivors and help them to stop the catastrophe. Discover and use a large number of wild and crazy objects, even wilder and crazier survivors, special abilities, and deadly weapons...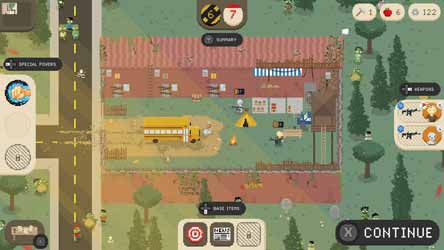 Back at base, it's time to prepare for tomorrow
With its simple, retro pixel art graphics Deadly Days is a game that is so easy to overlook. If strategic games, where you have to think at every turn, are what you're looking for Deadly Days has it in spades.
You start off with a very simple tutorial which lays out the basics in the form of a couple of missions.
You start each day the same: Choose from a number of missions and then set out into the zombie infested world. Working out what you need for your base will determine what missions you embark on. Want more food? Take on a supermarket raid; more people? Set off on a rescue mission; More scrap material? Go on a warehouse hunt... And then there are loot chests and treasure bearing monsters to find. Every now and then you'll get the chance to raid a fast food building. This needs to be bombed until you can loot it, which offers up a special item that will come in handy when you collect several of them. You can also raid apple trees (which act as food for your HQ). After you return from a mission each member of your team will consume 1 apple. This is worth keeping a close eye on, because when you run out of apples people start dying.
You get special abilities to use in the wild and while you're out and about you might collect new weapons and scrap. Scrap can be used to fix weapons and upgrade special abilities. Apples are not only used to feed your team, but can also be traded to level up each character.
Try and keep all of your team alive as your search each area
There are 60 objects to find, which make every game unique; 30 powerful special abilities that can dramatically alter the outcome of fights; and three different specialties in which you can activate new abilities, survivors, objects, and types of weapons. There are 25 types of weapons with randomly generated modifications. You can also discover 55 different survivors with 50 different abilities. And as for your enemies, there are more than 10 different types of zombies who want only one thing: brains. There are also three bosses who must be vanquished at the end.
The game ends when all of your team die. As long as one of them makes it home, and you have enough food to feed them, the game will move onto the next day. Don't worry though, you'll be dying a lot. If I had one issue it's that the apple trees are just too rare and the zombie strength intensifies a little too quickly in the levels.
Overall this is a fun little game that will keep you coming back time and time again.
6
Darren Rea