Fantasy Friends
Under The Sea

Format: PS4
Publisher: Just For Games
Developer: Xaloc Studios
RRP: £19.99
Click here to buy - store.playstation.com
Age Restrictions: 3+
Release Date: 01 September 2021
Welcome to the pet-caring game with magical aquatic creatures. From a cute dogfish to a surprising frog, discover 12 incredible aquatic creatures you will love to look after and play with. Each animal needs a specific food you will have to produce. Collect hundreds of colours and skins for your pets and challenge your friends to see who can collect the most unique creatures...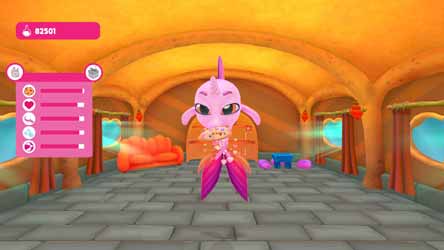 Welcome to the pet-caring game with magical aquatic creatures
Fantasy Friends: Under The Sea is pretty much the exact same game as the studio's 2020 game Fantasy Friends. However, instead of the creatures living in a forest, they now live under the sea... although I have to be perfectly honest and admit that I missed the whole sea element until I was playing with a sausage dog and it turned around and I noticed it had a fish tail.
For those unfamiliar with the first game, the idea is pretty simple. You care for and hatch eggs that contain baby fantasy creatures. When they hatch you have to meet their needs by feeding, washing, loving and grooming them. When they turn into more mature creatures, you can also play games with them.
Both this and the previous game are aimed at the very young gamer, and as such my review reflects this. It's not a game a late-teen and upwards who enjoys slicing up zombies left, right and centre will get anything out of. But, for it's intended audience it should provide hours of cute pet collecting enjoyment.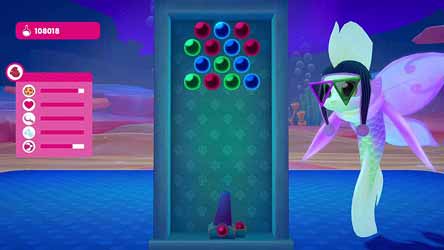 Play a number of puzzle games to entertain your pet.
As you play more and more with your new pets their love power also increases. When that is full they will give you a reward.
You can also unlock wearable items, new toys and various different skins for your pets, as well as decorating outside their home.
And, as your menagerie grown, you'll need to check in on each creature to make sure their needs are met. One of the more enjoyable aspects are the various puzzle games you can play to entertain your pet. Some require dexterity, others a little puzzle solving, but all are a lot of fun.
Overall this is a cute, fun game... but only for very young players.
7
Nick Smithson