Merek's Market

Format: PS4
Publisher: Big Village Games Ltd
Developer: Big Village Games Ltd
RRP: £14.99
Click here to buy - store.playstation.com
Age Restrictions: 3+
Release Date: 15 September 2021
Merek's Market is a chaotic crafting game that sees you play as Merek, proprietor of a medieval shop. We've all been that adventurer throwing down bags of gold to buy swords and shields, but what about the poor souls rushing around behind the shop counter? Strange customers? Yes. Over the top crafting challenges? You bet. A shop cat? Absolutely! Take ownership of Merek's Market as you haggle, barter and craft your way through a comical single player campaign or team up with friends to supply the whole town with items they need... or didn't realise they needed...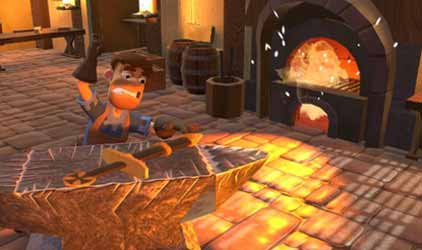 Merek's Market sees you running a small medieval shop
Merek's Market is a fun memory crafting game that sees you running a small medieval shop. In the early stages you'll be shown what materials make certain items. Simply take those items to your crafting bench and bash them together to create a beautiful objet d'art. As customers enter your store they'll tell you what they desire and your task is to craft that item as quickly as possible (if they have to wait too long they'll storm out of the shop). They'll then walk over to your till and this is where you collect your money for services rendered (by pressing the buttons on your controller that correspond with the symbols in a speech bubble floating above the customer).
As you progress through the levels you'll unlock new items to craft as well as new work areas (including a fire which allows you to make clay vases and drinking glasses) and if you forget how to make an item, you can simply run over to your crafting catalogue and choose the item and a handy guide appears.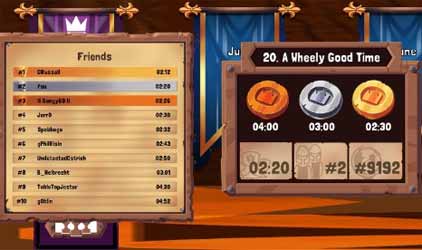 See how you measure up on the global leader boards
Sometimes people come into your store and head straight to the till. They're either time wasters, in which case you need to quickly spot this so you can get rid of them as soon as possible, or they'll want an item you have behind the counter and then you can haggle with them on price. You need to make a profit, but you don't want to sell at a loss... but you'll need to be quick as there are also customers awaiting who want you to craft items for them.
Then there are the very special commissions. When a wizard enters your store he desires a full size statue of himself, and will pay handsomely for the privilege. In this instance you have to craft several items together for each part of the statue. As you complete each part you must run out of the store to where the statue is being constructed and play a mini game to add your new piece to the construction. This mini game sees you standing on one of a number of squares. Watch as they light up individually and then follow that pattern by running onto each square in the correct order. Then it's back to the shop to try to complete the next piece... while sorting out customers needs at the same time.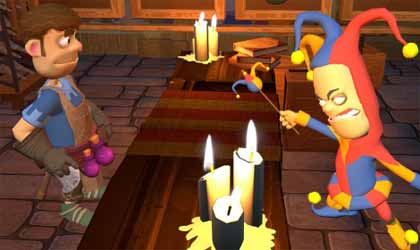 You'll need to get rid of time wasters as quick as possible
Despite being a new game it got its first patch on day one... but there are still some bugs. Most notably the global leader boards not updating. On playing the first level where you have to construct a statue for one of your customers it's not overly clear that you need to do it in a timely manner (to receive either a gold, silver or bronze award) as the level allows you finish the task, even when the clock has run out, and tells you you have completed it... however it won't progress to the next level until you've managed to achieve a score within the permitted time limit.
This is a fun, challenging game of memory that will keep all ages entertained. The learning curve is gradual and there are plenty of new elements of the game, that unlock as you play, to ensure you keep coming back for more.
7
Darren Rea