Unmetal

Format: PS4
Publisher: Versus Evil
Developer: Unepic_Fran
RRP: £13.99
Click here to buy - store.playstation.com
Age Restrictions: 16+
Release Date: 28 September 2021
You play as Jesse Fox who finds himself imprisoned in a covert military base after he was arrested for a crime he didn't commit. Jesse must now escape using his dry wits, quick words, improvised skills, arsenal of warfare, violent explosives, MacGuyvered gadgets, and an elaborate explanation of how it all went down. If that all fails, he'll use his fists...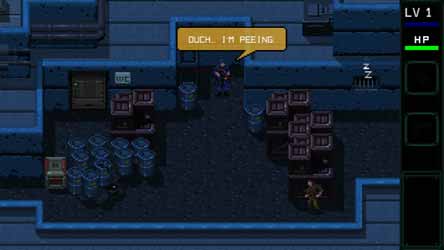 Unmetal is a retro looking game that comes with a sense of humour
Unmetal is a retro looking game that comes with a sense of humour. There are oodles of retro pop culture references for you to try and spot. While there's the obvious The A-Team gag that opens the game, did you spot the opening prison escape reference from The Goonies? ("You schmuck! Did you really think I'd be stupid enough to kill myself?")? You did? Well there are plenty of other to look out for.
The game is set in 1972 and your mission, after being incarcerated for a crime you didn't commit, is to escape from the heavily guarded clandestine military base you currently call home. Stealth and crafting play a major role as you work your way through the levels undetected. Combine found items like circuit boards, wire and even things like unscented, unpatterned single ply toilet paper. Some of the items are useful, others not so much. Likewise some of the prison inmates are helpful, while others will take your items and then not help you as expected. Well, they're criminals, what did you expect?
Engage in a journey through Lloyd's dreams.
As you creep around the grounds there are patrolling guards you need to take care of. And if you can knock them out without them spotting you (easier said than done) you'll gain experience / skill points.
An entertaining game which is pitched at just the right level of difficulty to ensure you're never really stuck for too long trying to fathom out the answer. Retro gamers will find much to enjoy here.
7
Darren Rea