Youtubers Life 2

Format: PS4
Publisher: Raiser Games
Developer: U-Play Online
RRP: £32.99
Click here to buy - store.playstation.com
Age Restrictions: 12+
Release Date: 19 October 2021
Become the best youtuber in the world. Collaborate with legendary celebrities, explore the city of fame, find out hidden stories, and follow trends to create viral content. Live the life of an emerging superstar: Fame, Fortune, and Fans are waiting for you...
Have you got what it takes to be a successful Youtuber?
Youtubers Life 2 is the sequel to 2016's Youtubers Life.
I have to admit that I nearly gave up on this game before it got started. Firstly it's not the sort of game I (or anyone in the office, for that matter) am really into, but even with that in mind, some poor mechanics meant that I started to get very frustrated very early on.
You start by creating your avatar for the game. This is something worth taking a little time over because once the game starts you're stuck with that look until you earn money to buy clothes. And because I'm an idiot, I thought it would be funny to dress my avatar in just their underwear... Well that gag got old real fast and I started to wish I'd been a little more serious in my design choices. Likewise I gave my character and their social media channel a rather puerile title and couldn't work out how to alter it once I got bored.
You are whisked off to a Newtube City where you will learn the basics of becoming a internet star. In the early stages it's quite dull, simply recording and editing your content - although I never really understood how the edit gave a good or bad rating. As you progress you open new skills like opening an Instagram account and buying a PC so you can review gaming videos for your fans. That's if you opt for a gaming channel. You can also choose to host a fashion, cooking or music channel.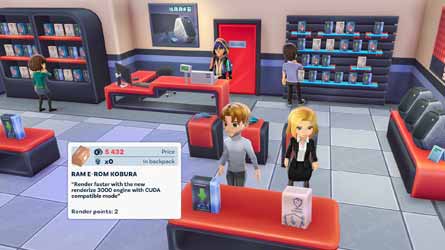 Learn the basics of becoming an Internet star
To earn extra money, in order to buy better things in the game, you can undertake tasks around the town. This was another element that was made a little harder than it needed to be. Firstly, it's not the most power hungry game. The street scenes are bold enough, but not exactly highly detailed. So I couldn't understand why if you travelled more than a few blocks it would need to load the next part of the map. This is particularly annoying when you consider you'll be spending a lot of the game roaming the town. Getting your bearings is also a bit of a pain. You need to open your phone and then chose the map app. From what I could tell you couldn't zoom in and out and the icons for the characters you meet don't include their name, making it a bit hard to track them down unless you can remember what they look like when you're asked to meet them.
On one of the very first missions I had to pick up parcels from shops and deliver them to neighbours. Entering the shop you quickly see the box, but when you get to the person it's being delivered to it took me some time to realise I had to open my backpack, hold the item and then give it to the recipient. I thought just talking to them would have triggered the action.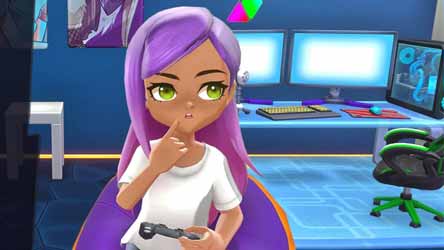 Customise your look as well as you room
As you progress through the game you get to unlock more elements. One of the fun parts involves getting a permit to ride any of the many scooters dotted around the town. There's also the inclusion of superstar youtubers. Meet Rubius, InoxTag, GermanLetsPlay, LaurenzSide, WillyRex, Crainer and more to live new adventures along the way, and get their exclusive rewards to boost your channel.
While this game wasn't for me, I can tell that those that are into the genre will get hours of entertainment out of the content. For me, though, it just seemed like too much hard work for very little reward.
6
Nick Smithson