Beyond a Steel Sky

Format: PS4
Publisher: Microids
Developer: Revolution Software
RRP: £44.99
Click here to buy - store.playstation.com
Age Restrictions: 16+
Release Date: 07 December 2021
Robert Foster must return to Union City on the trail of kidnappers who snatched a child from his village in the wastelands. Why would anyone steal a child from a poor background and take it to Union City, the home of the elite? Foster will have to go undercover, forge some unlikely alliances and rekindle an old friendship if he's to succeed...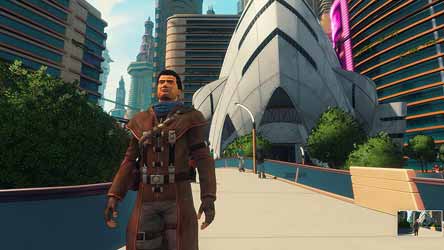 Enjoy a cyberpunk sci-fi adventure game with point and click mechanics
Beyond a Steel Sky is the spiritual successor to 1994's Beneath a Steel Sky. This new game is set 10 years after the first installment, but don't worry if you haven't played that. As this is a self contained tale that doesn't require you to have any knowledge of the previous game. There's the odd nod and wink to previous events, but nothing that will spoil your enjoyment if you're in the dark.
It's a cyberpunk science fiction adventure game with point and click mechanics. It works really well as you are slowly immersed into this world. The main story takes place in Union City. This shiny metal and glass metropolis is the height of class, filled with the very best of humanity. Here the wealthy elite want for nothing. Those unfortunate to not reside here are known as Gaplanders, living in the hard shanty towns in the wastelands.
You must return to Union City after a lifetime as a Gaplander
You take on the role of Robert Foster, a Gaplander who formally resided in Union City as a child, until events led to him being exiled unwillingly and raised by a local tribe that found him. As a child he created a robot called Joey, a robot who over time became the leader of Union City - and did a pretty good job of it, thanks mainly to the morals installed in him by Foster.
When a child is kidnapped in Foster's village, he tracks the kidnappers to Union City. But as an exile he has to find a way past the main gates. Once he tackles that little problem he will have the run of Union City in order to find the missing child.
There are so many elements to bleat on about here. The artwork is impressive (the art direction is by legendary comic book artist Dave Gibbons). The vocal acting is spot on (sarcastic and over the top pantomime villain when needed, and serious dramatic acting when it calls for it - which to be fair, isn't very often. The soundtrack to this game is also incredible and you'll spot the homage here and there to classic sci-fi (but mostly David Arnold's score for Stargate)
As you progress through the game you'll discover tech that allows you to tinker with nearby robots, altering their programming so that they can help you in your quest.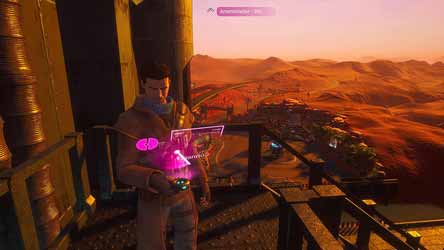 Use stolen tech to take control of nearby robots
If I had one teeny tiny issue, it's that the game has to be played in a fairly regimented order. You are faced with one issue which you need to solve before moving onto the next. I thought the developers could have been a little cleverer at hiding this so that you weren't overly aware of being shepherded through the game. But that is such a minor issue in what is an otherwise top game.
If you get stuck, and you most likely will, there's a handy hints section that will give you clue upon clue until it eventually pretty much tells you the answer. But only use it as a last resort, as a lot of the fun is piecing together the clues, or stumbling across the solution.
This is a wonderful merging of comic book aesthetics, blockbuster movie storyline and point and click adventure game.
10
Darren Rea