Alwa's Legacy

Format: PS4
Publisher: Elden Pixels
Developer: Elden Pixels
RRP: £11.99
Click here to buy - store.playstation.com
Age Restrictions: 7+
Release Date: 09 December 2021
Alwa's Legacy is a modern retro game full of dangerous dungeons, mystic items and ancient secrets. You play as Zoe as she uses her magic staff to navigate the land of Alwa, solving perilous puzzles and fending off monsters. The game allows you to craft your individual play style, centred on an offensive, defensive or explorative skillset. Using magical upgrades, novel pathways can be found as you explore the non-linear interconnected world by summoning blocks to climb on, bubbles to bounce off of, and lightning bolts to attack with. Quick reflexes are needed to traverse challenging rooms while avoiding booby traps and pitfalls. Along this adventure, you will meet all manner of interesting characters, comb through dangerous dungeons, and uncover incredible secrets as you attempt to save the land from extinction...
Embark on a quest to save the land of Alwa
Alwa's Legacy is a standalone sequel to Alwa's Awakening.
Following the events of the first game, Zoe is about to embark on her quest home after saving the land of Alwa. However, upon awakening, she finds herself at the beginning of her adventure with the world feeling disparate yet familiar. In order to return home, she will need to help the inhabitants of this mysterious land and save it yet again from the mysterious curse it appears to be under.
With 16-bit inspired visuals, Alwa's Legacy pays homage to classic pixel art offerings of the past. Now, while I did enjoy this game, I'm seeing a few too many of these type of 2D retro style platformers. And it's getting to the point where they all blend into one.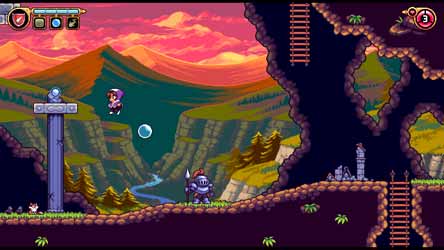 The game rewards exploration
What Alwa's Legacy has going for it is that it's a little more modern, stylistically and it really wants you to explore the world. There are exits off each screen and you're constantly tempted to go and check out where each leads to.
It's challenging and fun and certainly one that will appeal to collector's of retro style games.
7
Nick Smithson