Dyna Bomb

Format: PS4
Publisher: 7 Raven Studios
Developer: 7 Raven Studios
RRP: £3.99
Click here to buy - store.playstation.com
Age Restrictions: 3+
Release Date: 17 December 2021
Strap on your jetpack and prepare for chaos. With 64 explosive levels - and 8 animated worlds. Experience the manic arcade action as you dodge enemies, fling bombs and grab the treasure - before making a mad dash for the exit. Do you have the skills to find the secret levels? Can you master all the different power ups and dominate the worlds...?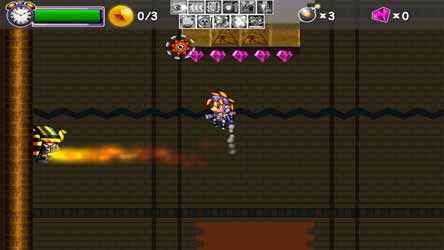 Dyna Bomb is a wonderful blast from the past
Dyna Bomb is a lovingly crafted retro arcade game that took me back to the dawn of home computer games. So, for me, this was a wonderful blast from the past and at £4 you can't really grumble if you only get a few weeks pleasure out of it.
The game features eight different worlds, eight different levels for each battle mission, hidden levels on each world, two different characters to control, over ten mega power ups, explosive sounds and explosive creepers, and a slot game, to win additional items.
I did find myself drawn back time and time again to try and progress further. The graphics are bright and bold and the whole game is fun and frantic and the level design is pitched at just the right difficulty level to ensure it's fun for gamers of all ages.
7
Nick Smithson