Destiny 2
The Witch Queen (DLC)

Format: PS4 / PS5
Publisher: Bungie
Developer: Bungie
RRP: £34.99 / £69.99
Click here to buy - store.playstation.com
Age Restrictions: 16+
Release Date: 08 March 2022
Delve into Savathûn's Throne World to uncover the mystery of how she and her Lucent Hive stole the Light. Learn the secrets to crafting new weapons, the new Glaive, and survive the truth within her web of lies. A twisted wonderland of corruption and splendour, Savathûn's Throne World plays host to a fragile balance of power. From her palace to the swamp, all that she hides can be found here. Create custom weaponry with unique mod, shader, and stat combinations. Master the new Glaive weapon type and unleash powerful melee combos, projectile attacks, and a deployable energy shield...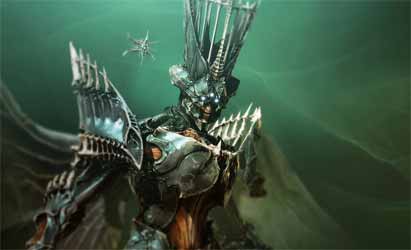 The Witch Queen DLC sees the start of the year 5 of Destiny 2
The Witch Queen expansion sees the beginning of the fifth year of Destiny 2. The main focus is on the character of, Savathûn, one of the three leaders of the Hive.
The expansion introduces Savathûn's Throne World within the Ascendant realm as a new area for gameplay, as well as Lucent Hive, Hive warriors that have been imbued with the power of the Light. A new weapon type, the glaive, is introduced, which has a balanced range of melee and projectile attacks.
Gamers are also introduced to weapon crafting - to begin with, with gear found in The Witch Queen expansion but eventually working in legacy equipment. The developers are also gearing up to release a new raid or dungeon every few months.
Players are also introduced to weapon crafting
The Witch Queen expansion comes in a standard release (£34.99) and a Deluxe edition (£69.99). The Deluxe Edition includes Seasons 16-19, two Year-5 Dungeons, an Exotic SMG, catalyst, ornament, and an Exotic Sparrow.
The introduction of Wellspring offers new six-player match made activity at the heart of the ongoing struggle for the Throne World.
For Destiny 2 fans this will be a welcome edition, but if you've not been following the unravelling of the series you might like to do a little Internet surfing to get up to speed.
8
Nick Smithson