Glitchhikers: The Spaces Between

Format: Nintendo Switch
Publisher: Fellow Traveller
Developer: Silverstring Media
RRP: £10.80

Click here to buy - nintendo.co.uk
Age Restrictions: 16+
Release Date: 31 March 2022
Glitchhikers: The Spaces Between is about the thoughts that exist between destinations, the parts of journeys that dominate our time but not our attention, when our minds wander to parts of ourselves, and our world normally left unexamined. On a late-night highway drive, a quiet train car in the early hours, a walk through a moonlit park, or the endless wait in a deserted airport, we listen to weird music amid the ambient announcements of delays and question our place in the universe. Inspired by long travel and the stream of consciousness it fosters, Glitchhikers asks you to look inward. Find the answers to your questions and question the answers you receive...
Explore the thoughts that exist on a late-night highway drive
Glitchhikers: The Spaces Between is an expanded experience, reborn and reimagined follow up to the short game released in 2014. It will either be an awakening for your consciousness... or a philosophically shallow self-indulgent trip down a pointless rabbit hole. Personally I stand firmly in the camp of the latter view. What could have been a highly engaging exploration of... well, anything, just plays out as a trippy nonsensical waste of time.
This is not a game. It's more a... surreal journey where the developers hold up a mirror to what it means to be alive... possibly. It just all seemed a little odd. It's almost as though they'd designed with the graphics, locations and the mechanics without actually thinking of how it would be implemented into a game... In the end sticking a surreal, inward reflecting narrative seems like a lazy way of trying to appear more cerebral than it is.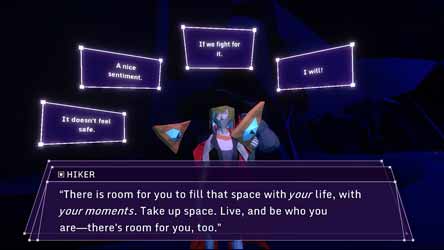 This is a subjective offering that will divide gamers
However, having said... Those who enjoy exploration in their adventure games will find much to keep them entertained. Granted it's different and for that it should be applauded, however it's a subjective offering that will divide gamers right down the middle (although I suspect most will not appreciate whatever the developers set out to achieve).
A rather odd experience that I'd rather just forget ever happened.
3
Nick Smithson