Gigapocalypse

Format: PS4 / PS5
Publisher: Headup Games
Developer: Goody Gameworks
RRP: £7.99
Click here to buy - store.playstation.com
Age Restrictions: 3+
Release Date: 04 August 2022
Gigapocalypse is a 2D pixel art destruction game, inspired by classical Kaijū movies. It features a selection of different "Gigas" from the Prehistoric era, the uncharted outer space and the forgotten history. Each with unique skills, mutations and manifold skins that can be unlocked with level ups. Start your destruction spree and destroy everything on your way through different detailed pixel style locations. But beware: Nasty soldiers, wizards, drones and mechs will do everything to stop you...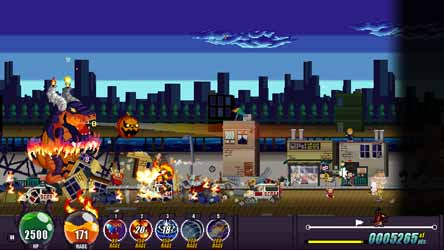 You can't climb buildings and you can't really control your monster
Gigapocalypse is a game that for a brief moment looks like it might be a lot of fun. However, just half an hour of play and it soon becomes clear that this is a game with little in the way of replayability. The biggest issue is it's just not much fun. All the ingredients are there (giant monsters; rampaging mayhem; populated cities to destroy), but there's not a lot to actually do. As your chosen beasts walks the streets you can use your main attack to destroy buildings and people that are out of your reach, or your secondary attack to take down buildings that are within grabbing distance.
You can't climb buildings, you can't really control your monster (it just ambles ever forward)... in short you can't really do anything other than use your two attack moves. And that gets old real quick.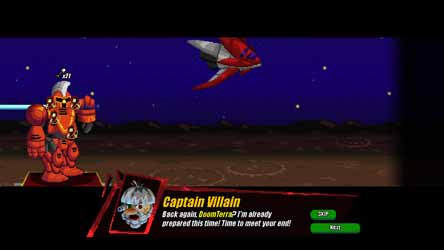 The game relies on the player replaying each level over and over
There are power ups and unlockables, but these didn't really add much to the gaming experience. And before you know it the game will be over and you'll have no idea why your health suddenly drained so quickly.
There's a Tamagotchi style screen where you can care for your monsters... but it's very limited and rather pointless.
The game basically relies on the player replaying the level over and over in a bid to unlock power ups and other extras in order to progress further through the level. Many will find it relaxing and therapeutic, but I just found it dull and repetitive. It's a shame because the retro graphics look great. It's just a pity that the developers forgot to add an engaging and worthwhile game into the mix.
3
Nick Smithson