Felt Flowers Bouquet

Manufacturer: Crafters / Kikkerland
RRP: £TBC
Click here to buy - kikkerlandeu.com
6 12615 11730 3
Item Number: CR14
Available now
Have you ever wanted to be more crafty, but don't know where to start? Maybe you're not quite ready to join a social group as you're not confident in your abilities. Well, Kikkerland has a simple and relatively cheap solution with its Felt Flower Bouquet kit. It includes everything you need to give you the confidence and inspiration to take that first move into stepping out on your own into the world of felt flower creation...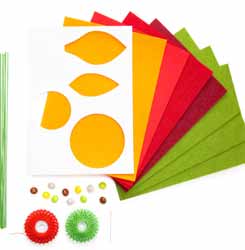 The perfect for the novice crafter
I'm not the most confident arts and crafts person. Hardly anything I try ends up looking like it's supposed to, so I was a little worried when I was sent the Felt Flower Bouquet kit to review... I mean, I have two left hands, surely I'd make a mess of it.
I surprised myself and, I think it's fair to say, my colleagues, family and friends. For a first attempt, I managed to actually produce a rather fetching bouquet of flowers.
The kit includes 7 felt sheets, 15 wire stems, 11 buttons, needle and thread, paper template. While it was a little daunting at first, I soon got stuck in and I have to admit that not only did I really enjoy myself, but I was itching to move onto something a little more challenging.
This is the perfect gift for the felt flower newbie, or that inquisitive, creative, age appropriate child in your family. Although, adult supervision is suggested as the kit includes a needle and thread.
If I can do it then anyone can. I started to think I had long harboured hidden crafting abilities. If nothing else, it got me more interested in arts and crafts.
8
Amber Leigh