Mechanics
Gravity
Loops & Turns

Manufacturer: Geomag
geomagworld.com
RRP: £36.99
Ages: 8+
0 871772 007630
Item Number: 763
Available now
Explore the invisible forces of nature. With the help of Geomag magnets, young minds will learn to use gravity to construct their own magical motor, running the spheres up and down the track. Discovering the Mechanics Gravity line, and understanding the laws of physics, will help the young engineer in all of us understand how gravity works...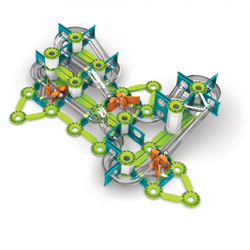 These sets introduce young minds to basic engineering and mechanics
The Gravity range of construction sets from Geomag helps to introduce young enquiring minds to engineering and mechanics. With magnetic rods, non-magnetic spheres, and cool mechanical elements, kids can build moving and functional structures. It's a creativity and problem-solving extravaganza. The only limit is their imagination.
There are 130 pieces to constructed in the Loops & Turns set, which allows you to build a circuit to run spheres from one end of the course to the other. This set can be used alone, or integrated with one of the other sets in the series.
The instructions took a little bit of fathoming, but once you've got your head around them they're easy enough to follow. They're really used as a stepping off point to get you started. Once you know what each component is designed for it's not a problem to move on and construct your very own courses.
It's fun, challenging and educational. The perfect gift for the young engineer in the family.
9
Nick Smithson