Become one of six monstrous characters and attempt to make your way around the board while collecting all six hidden keys within the allotted 49 minutes. The DVD operated Gatekeeper will be watching your progress. In order to beat him you will have to face your greatest fear in the sinister Well of Fears...
This is a fantastically spooky game. Anyone who remembers the original '80s Atmosfear range of video board games will be really impressed with how this classic series has been updated for the 21st century.
The video version, from oh so long ago, used the video to simply add a little atmosphere to the game. But, with the introduction of the DVD version, it offers a lot more interactivity.
Firstly, the game allows you to inform the Gatekeeper which characters are playing - so that he can speak directly to only those characters that are participating in the game. Secondly, at various times the Gatekeeper will ask you to choose an item from a selection of six. Once you've made your choice the Gatekeeper decides your fate. Finally, unlike the video game - where you had to stop the video if you won - you can now see a specially designed cut-sequence if you can make it to the Well of Fears and face your nightmare before the allotted time runs out.
But, probably the greatest advancement to the DVD version of the game is the many different punishments, insults and introductions that the Gatekeeper randomly throws your way. This means that each time you play the game you're never really sure of how he will behave. Will he reward more than punish, or will he be in a vindictive mood?
The only way to play Atmosfear is in a room lit only by candles (we found that four tealight's placed in holders on the outside of each corner of the board made for a very atmospheric setting.
This really is good, solid family entertainment - the Gatekeeper is amusing more than scary - so your little ones should be able to play without getting too frightened.
Revolutionising the stagnant, and rather dull, board game market, Atmosfear is a scream.
Pete Boomer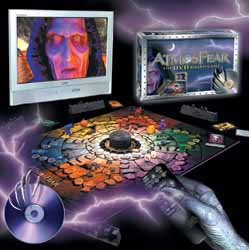 Buy this item online
We compare prices online so you get the cheapest deal!
Click on the logo of the desired store below to purchase this item.
| | |
| --- | --- |
| | £22.99 (Amazon.co.uk) |
| | |
| | $39.99 (Amazon.com) |
All prices correct at time of going to press.