Everyone's favourite blue hedgehog is back and this time he's faster than ever. Kids love watching the show, playing the game and now they can take their favourite characters home thanks to F.E.V.A's new range of Sonic X 5" collectable action figures...
Ah, the nostalgia. Do you remember the days when Sonic the Hedgehog was the only game that anyone was playing? Well there seems to have been a bit of a revival for our blue spiky friend. There are new console games being released and there is even a PS2 and XBox compendium that features all of the classic Megadrive and Sega Game Gear games.
Now F.E.V.A has launched a range of cool collectible figures of various sizes (some featuring sound), beanies, plush, inflatables and cutting edge games.
Sonic is undoubtedly the character from this range that will be the most popular (although Tails has more of an "Ahhh!" appeal). I was actually surprised at how much he looked like the character we know from the games and TV show. It can't be all that easy reproducing a spiky yet cute looking hedgehog in plastic (I didn't think they'd manage to get the spikes on his head right), but it's been done.
This figure also comes complete with two chaos emeralds (which he'll need to keep safe if he doesn't want Dr. Eggman stealing them) and is constructed of strong materials.
Young fans will love these toys as they will be able to recreate scenes from the cartoon series, and adult collectors will be impressed with the attention to detail - especially at the price.
I still can't believe how cheap this range is - £6 is nothing at all to pay for something that will give you hours of fun. These figures are sure to fly off the shelves so make sure you make a dash to your nearest toy store.

Nick Smithson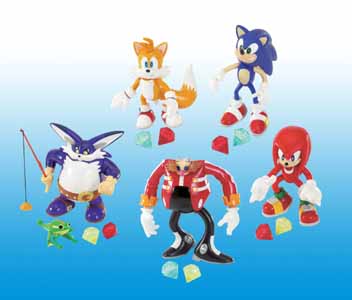 Buy this item online
We compare prices online so you get the cheapest deal!
(Please note all prices exclude P&P - although Streets Online charge a flat £1 fee regardless of the number of items ordered). Click on the logo of the desired store below to purchase this item.
| | |
| --- | --- |
| | £5.99 (Amazon.co.uk) |
All prices correct at time of going to press.