Martin Brody is a former New York cop who recently traded in the stresses of the Big Apple for a quiet life as the police chief of a sleepy New England beach town. But when the body of a possible shark victim washes ashore, Brody is forced to weigh the safety of bathers against the financial concerns of the mayor, who opposes closing the town's beaches during peak tourist season...
Is there any real point in me delving into the plot of this movie? Everybody has seen it, or at the very least knows what it's all about.
I snapped up the original DVD release of Jaws when it was issued as an anniversary edition a few years ago. And to be quite honest you might be better off buying that edition, as you can pick it up quite cheaply.
It's shocking that the picture quality is still not as good as it could be - the film print could have been remastered before it was transferred to DVD.
Extras are nothing special, most of them were released on the last edition. But the original documentary from the previous release has been extended and there is now another hour's worth of material (this is now a 1 hour, 50 mins feature).
You can even buy a limited edition box set for £40 - although I have to admit that I was surprised that anyone would pay that much for very little in the way of extra special content. While we all know the old marketing scam "Limited Edition" means nothing - every DVD release is limited - there are only 2500 box sets available in the UK. Mind you, there were only 1000 each of the limited edition Star Trek: The Next Generation and Star Trek: Deep Space Nine collections yet they are still available to buy and at incredibly reduced prices.
In the Jaws limited edition collection you get a soundtrack highlights CD (Nah, sorry I bought the CD soundtrack years ago to replace my vinyl copy. A highlights CD seems a little half-hearted. Why not give away a full soundtrack). You also get a limited edition Senitape (whatever that it) a commemorative booklet, 8 lobby cards, 6 publicity stills and US theatrical posters - not really worth an extra £20.
To be quite honest though, it's not really worth paying again for this unless you really want the DTS soundtrack - which is not really that much better than the 5.1 track.
While I seemed to have moaned, yet again, my way through this review, if you haven't already got this movie on DVD you really should think about getting hold of it. Although, I would probably advise you to get the last anniversary release, or better still wait for them to reissue it again with a remastered print of the film.
Still one of Spileberg's finest films - a shiver still shoots down my spine when I Alex Kintner is killed. The movie itself scores a meaty 10/10, but sadly, this release adds very little to what has already been issued. For that reason alone, this release gets a...

Darren Rea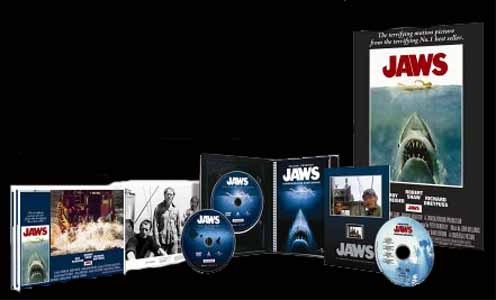 Image shows contents of Limited Edition Collectors Box Set
Buy this item online
We compare prices online so you get the cheapest deal!
Click on the logo of the desired store below to purchase this item.
£14.99 (Amazon.co.uk)
Standard 2-Disc Edition

£29.99 (Amazon.co.uk)
Limited Edition Collectors Box Set

£14.99 (Blahdvd.com)
Standard 2-Disc Edition

£31.99 (Blahdvd.com)
Limited Edition Collectors Box Set

£15.98 (Foxy.co.uk)
Standard 2-Disc Edition

£30.98 (Foxy.co.uk)
Limited Edition Collectors Box Set

£13.99 (Thehut.com)
Standard 2-Disc Edition

£14.99 (Moviemail-online.co.uk)
Standard 2-Disc Edition

£32.99 (Moviemail-online.co.uk)
Limited Edition Collectors Box Set
All prices correct at time of going to press.