F1 2013

Format: Xbox 360
Publisher: Codemasters
Developer: Codemasters
RRP: £49.99
5 024866 361216
Age Restrictions: 3+
Release Date: 04 October 2013
F1 2013 features F1 Classics, a new game mode introduced by legendary broadcaster Murray Walker, where you'll race famous cars from Ferrari, Williams and Lotus against icons of the sports including Nigel Mansell, Mario Andretti and Gerhard Berger. Classic content also includes two historic circuits - Brands Hatch and Circuito de Jerez - and can be played in a range of modes including split-screen and online multiplayer...
If you've played F1 2011 or F1 2012 and are expecting to quickly slip into F1 2013 comfortably, then you might be in for a bit of a shock. This feels like a slightly tweaked F1 2012, but Codemasters have decided to go for more realism this time around by offering fans the closest thing to a real F1 simulator than in previous outings.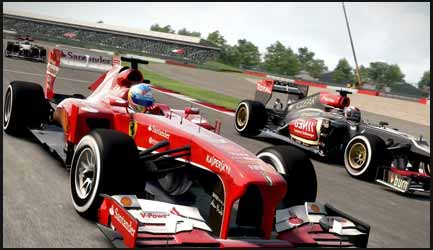 While this may be welcome news to some gamers, I can't help feeling that it will alienate a lot more, who simply want to pick up and play and just race for fun.
The first stumbling block, and for some it may be a big one, is that you are forced to run through the tutorial before you can get into the game proper. While this is understandable for such a complex simulator, I wonder if in today's attention deficit world how many people will just give up on the game here (there's no ability to skip this segment).
If you've already got a save point on your hard drive from F1 2012, then you can skip day one of training, but day two may cause a lot of people to throw their controller out of the window. You have to complete certain driving tasks, but if you don't complete them flawlessly and within the allotted time you have to redo them until you complete them satisfactorily. While this makes some sense to those that will be taking the racing deadly seriously, for everyone else it's here that you'll realise you're not going to enjoy this game.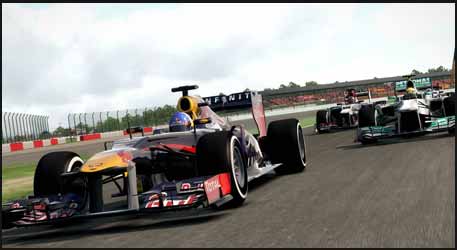 While the DRS and KRS elements of the game will be welcomed by those that are huge fans of F1, introducing them to you so quickly in the tutorial is just too odd. I knew what I was doing, yet still it took me some time to master it. And then I was met with a challenge to overtake three cars using the DRS and KRS before making it to the finish line. I couldn't do it... Why? Because I mistakenly thought I was supposed to pass all three (something I suspect is only achievable when you've being playing the game for some time). I tried overtaking them before the bend (almost impossible) after the bend (again, not an easy manoeuvre) and on the bend (forget it). Once I knew they were powering towards the finish line I reset the level. In the end I discovered, by accident that you didn't have to actually pass them all. I came in second and that training exercise was complete.
Likewise, in a later training level you have to navigate the corners in the rain, hitting the marks, at speed. It took me ages to complete this and I have to be honest and admit that if I'd bought this game I would have taken it back to the shops to get my money back.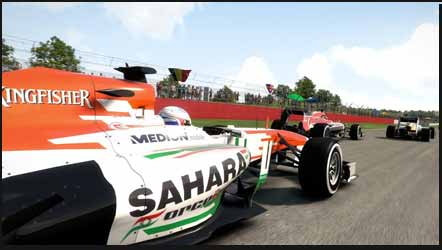 Someone seems to have forgotten that gaming is all about having fun. And as the main game started to take shape I realised that the player is punished almost constantly. While this will no doubt keep the player from slipping into a coma as he drives around and around the courses, was it really necessary to be forced to refuel or constantly change your tires?
When you finally get to the game proper you can chose from a number of gaming options.
Like F1 2012, Career Mode lets you join a rookie team and compete in races as you play through the seasons. Drive well enough and you'll impress some of the better teams who may make you an offer to join them.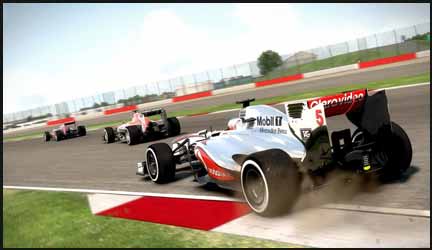 Classics mode offers you the chance to drive some classic cars from the '80s and '90s, but in the standard edition release of the game you can only compete on two circuits (Brands Hatch and Circuito de Jerez). If you want more cars, circuits and drivers, then you'll need to invest in the Classics-Edition version of the game (which is a lot more expensive) or purchase the content via the Xbox store.
The other modes are pretty much the same as in previous versions of the game. We get Time Trial and Time Attack modes which help you increase your lap speed times. Grand Prix mode makes a return, which allows you to take on the guise of this season's drivers to compete in full weekends or short races. And, of course multiplayer is available via split screen, system link and online. Likewise, Co-op Championship is available if you fancy playing a full season with friends.
The graphics are a little more polished, the AI is noticeably more realistic... but the decision to make this resemble more of a simulator than ever before might be a step too far for some fans.
7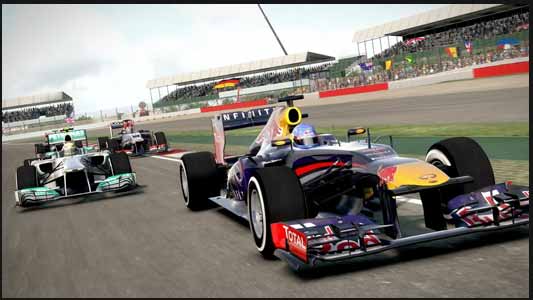 Nick Smithson