F1 2014

Format: Xbox 360
Publisher: Bandai Namco Games
Developer: Codemasters
RRP: £39.99
Age Restrictions: 3+
Release Date: 17 October 2014
F1 2014 features all the cars, drivers and circuits from the 2014 FIA Formula One World Championship, including new tracks in Russia and Austria, the return of the Hockenheimring in Germany and the 2014 Formula One Gulf Air Bahrain Grand Prix which ran at night for the first time in 2014.
This year offers gamers a new driver evaluation system which tunes the game to your level, shorter career options, refined handling and new Very Easy difficulty level allows absolute novices to pick up and play. Experienced gamers can customise their settings to enjoy a more serious simulation of the demands placed upon Formula One drivers.
While the latest in the F1 series is an enjoyable game, the thing that bugs me the most about games like this is that far from being new games released each year, the developers tweak and refine elements (sometimes actually taking away from the enjoyment of previous years offerings). Wouldn't a much more sensible approach be to release an original game and then offer free updates when the game evolves... and then, once a year, offer DLC that's charged at a reasonable price - so you can have all the latest drivers and any new game modes?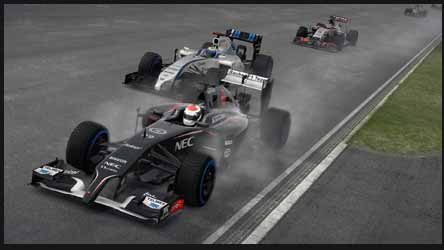 There are new maps and an increased multiplayer experience, but other than that there's very little here to get excited about. It's just the same old same old tweaked, repackaged and palmed off as something new.
Codemasters is currently working on a brand new game (F1 2014 is really just an update to 2012 and 2013's offerings) that will be specifically designed for the latest gen consoles.
To be fair, unless you're the most avid of F1 fans, there's not that much different here from last year's offering... or the year before that... Anyone other that hardcore fans should be able to pick up last year's release at a fraction of the price.
6
Nick Smithson